Mubarak vows more reform, fast growth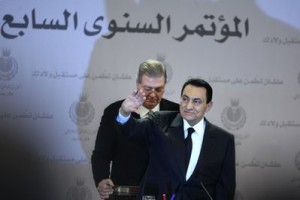 Egyptian President Hosni Mubarak pledged on Saturday to continue to push forward the country's democratic system and set the goal of realizing an economic growth rate of eight percent in the next five years. The party had strived to bring in equality and fair competition to Egypt's political system for the best interests of Egyptian people, said Mubarak while addressing the opening of the seventh annual conference of the ruling National Democratic Party.
"We launched a comprehensive political reform program a decade ago with the aim of ushering in a strong civil society here and modernize the constitution and this country's legislative and executive structure," he said.
The president said the constitutional reforms approved in 2007 aimed to bolster the country's democracy and empower the nation's citizens.
In the newly-elected People's Assembly (the lower house of Egyptian parliament), the ruling party won a sweeping victory with 420 seats in the 518-strong legislature.
Mubarak said the NDP and its government would continue to take steps to boost Egypt's democracy and infuse more plurality into its political system.
Meanwhile, the president asked the party and government to raise the growth rate to eight percent in the next five years. He stressed the importance of attracting foreign and local investments to bolster economic growth.
The country's gross domestic product has maintained relatively fast growth over the past few years. Affected by the global financial crisis, its growth rate fell to 4.7 percent in the 2008- 2009 financial year from 7.2 percent in the previous one. In the 2009-2010 financial year, the grow rate was 5.3 percent. During the electoral campaign for the parliamentary elections, the party pledged to realize an average annual growth of above seven percent in the next five years.
In his speech, Mubarak also promised to monitor the performance of the government in boosting economic growth, creating jobs, fighting corruption and improving the life of farmers.
As many as 4,317 NDP members will take part in the three-day conference, which will discuss a number of agendas related to the country's economic and social development. Xinhua