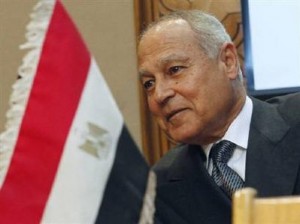 Egypt is not seeking to acquire nuclear arms and wants to rid the region of such weapons, Foreign Minister Ahmed Aboul Gheit said on Saturday.
A May 2008 U.S. cable released by WikiLeaks quoted Egyptian President Hosni Mubarak as warning U.S. officials Egypt might develop nuclear arms if Iran obtained them.
In 2007, Mubarak announced the resumption of a decades-old nuclear program for generating electricity and the bid for Egypt's first nuclear power station is due in weeks.
"Egypt does not seek to get nuclear arms because they would not be used and because their costs are huge. But we seek to rid the region of nuclear arms," Gheit told reporters on the sidelines of the ruling party's conference.
Iran and Egypt severed ties in 1980 after Iran's Islamic Revolution and Egypt's recognition of Israel. They are still at odds over issues such as the Middle East peace process and ties with Israel and the United States.
Another WikiLeaks release dated July 2009 quoted Egypt's intelligence chief Omar Suleiman as telling U.S. officials Iran was harboring extremists.
In April, Egypt convicted 26 men it said were linked to Lebanon's Hezbollah, which is backed by Iran, accusing them of planning attacks in Egypt. Hezbollah leader Hassan Nasrallah called the verdicts "political and unjust.
Warns Iran
Aboul Gheit warned Iran against interfering in the internal affairs of the Arab world , noting that there are signs that Iran continues to interfere in Lebanon and Iraq and othe arab and Islamic countries
He stressed that Egypt is keen about stability in Lebanon and for this reason it does not want armed militias in lebanon, in a possible reference to Hezbollah and some Syrian backed Palestinian militant groups
he expressed hope that the situation in Lebanon will not deteriorate following the announcemnt of the indictments by Special Tribunal for Lebanon over the murder of former PM Rafik Hariri
This error message is only visible to WordPress admins
Error: No connected account.
Please go to the Instagram Feed settings page to connect an account.