Sfeir urges the Lebanese to sacrifice for Lebanon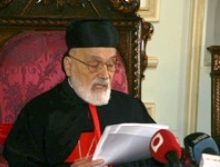 In his annual Christmas message on Thursday Lebanon's top Christian spiritual leader Maronite Patriarch Nasrallah Sfeir urged all the Lebanese to "sacrifice" for Lebanon.
"The holidays, as every year, arrived amidst a division among Lebanese and the faithful cannot hide their concerns about their country . Sfeir said in the message.
"Nations can never prosper without the sacrifices of its citizens ," he stressed.
"Loyalty to Lebanon must be sacred even if there are interests in foreign countries," Sfeir added.
"God gave us a beautiful country … deep rooted in history … we should love it ..sacrifice for it and make it better ." He said
Sfeir voiced hope that Christmas will bring happiness to all the Lebanese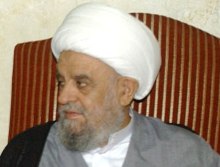 Vice President of the Higher Islamic Shiite Council Sheikh Abdul Amir Qabalan also delivered his Christmas message on Thursday and called on Muslims and Christians to walk in Jesus' footsteps.
"Lovers of Christ — Muslims and Christians in Lebanon – should walk in his footsteps … and cooperate in righteousness and piety," Qabalan said in his Christmas message.
He also called on those who love the Christ to "learn about justice from Jesus, " in a possible reference to the Special tribunal for Lebanon ( STL).
Sfeir said in an interview on Monday with MTV that "the way Hezbollah is acting gives the impression that they might seize power" in Lebanon.
Tension escalated in Lebanon following reports that the Special Tribunal for Lebanon will soon issue its indictment into the 2005 assassination of Lebanon's former Prime Minister Rafik Hariri. Last July, the Hezbollah chief Sayyed Hassan Nasrallah said that the tribunal is "an Israeli project" that will indict Hezbollah members. Nasrallah accused Israel of being behind Hariri's assassination but refused to provide the evidence to STL to support his claim. Hezbollah and its March 8 allies have been calling for the abolition of STL.
The Pro Syrian Al Akhbar newspaper reported earlier in the month that Hezbollah has prepared a plan to take over Lebanon when STL issues its indictment for the 2005 murder of the late Prime Minister Rafik Hariri.
Free Patriotic Movement leader MP Michel Aoun , (a close ally of Hezbollah ) said on November 18 that Hezbollah might violently respond to an STL indictment that accuses Hezbollah party's members in Hariri's assassination.
On December 7 a leading Israeli Military Intelligence official expressed concerns that Hezbollah might seize control of Lebanese government institutions .
"Dozens will be killed when Hezbollah uses force and takes over government institutions," senior Military Intelligence official Colonel Yossi Adler told the Knesset in 'a possible scenario if Hezbollah is indicted by STL.'