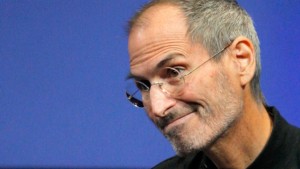 The United States needs more jobs, said President Obama … more Steve Jobs, that is.
During a press conference by the president discussing the economy, and the pressing need in the U.S. for more jobs, Obama highlighted Apple CEO Steve Jobs, whom he said was living the American Dream.
"Something that's always been the greatest strength of America is a thriving, booming middle class, where everybody has got a shot at the American Dream. And that should be our goal," Obama said. "That should be what we're focused on. How are we creating opportunity for everybody? So that we celebrate wealth. We celebrate somebody like a Steve Jobs, who has created two or three different revolutionary products."
"We expect that person to be rich, and that's a good thing. We want that incentive. That's part of the free market," Obama said.
Obama went on to describe the role such people can play in the economy, and ways fortunate individuals like Jobs can help create jobs for others.
"We also want to make sure that those of us who have been extraordinarily fortunate, that we're contributing to the larger American community so that a whole bunch of other kids coming up are doing well. And that means schools that work and infrastructure like roads and airports that function, and it means colleges and universities that teach and aren't restricted to just people who can afford it but are open to anybody with talent and a willingness to work."
On Thursday, the Financial Times named Jobs "Person of the Year," calling his recovery from illness "the most remarkable comeback in modern business history."
"Little more than a decade earlier, both Mr Jobs' career and Apple, the company he had co-founded, were widely considered washed up," the paper noted. "By the start of this year, however, the rebound was complete."
In September, Forbes released its annual list of the world's richest people. Jobs placed 42nd among Americans, with a total net worth of $6.1 billion as of August 25, 2010. He was ranked as the 136th wealthiest person in the world.
Not bad for a man still taking in just $1 in salary each year as the CEO of Apple. Fox news