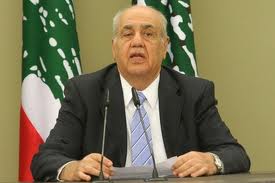 Lebanese Forces Parliamentary bloc MP Farid Habib accused Hezbollah of following the instructions and guidelines set by Wilayat Al Fakeeh ideological principles. ( Guardianship of the Islamic jurists)
"The statements of Iranian officials and specially that of Iran's spiritual leader Ayatollah Ali Khamenei prove beyond any shadow of a doubt that the Iranian state is not interested in the stability of Lebanon. This country (Iran) is trying to destabilize the situation in our country," Habib said.
He added that Khamenei has no right to appoint himself the guardian of Lebanon although he has influence on a certain sect in the country. In a possible reference the Shiite community of Lebanon.
"The Iranian spiritual leader has no right to decide if the international tribunal is legitimate or not," the MP added.
"Iran is not playing a positive role in Lebanon," Habib stressed but added that "the threats and intimidation by Iran and its ally Hezbollah will have no impact on the course of justice nor will it stop the tribunal from naming those who carried out the assassinations in Lebanon. "
Commenting on statements made by Patriotic Movement leader MP Michel Aoun, Habib said:
" Aoun is still dreaming to become President, even if this will require a military coup."
Tension escalated in Lebanon following reports that the Special Tribunal for Lebanon will soon issue its indictment into the 2005 assassination of Lebanon's former Prime Minister Rafik Hariri. Last July, the Hezbollah chief Sayyed Hassan Nasrallah said that the tribunal is "an Israeli project" that will indict Hezbollah members. Nasrallah accused Israel of being behind Hariri's assassination but refused to provide the evidence to STL to support his claim. Hezbollah and its March 8 allies have been calling for the abolition of STL.
Hezbollah has spearheaded several campaigns with the aim of discrediting STL. On Monday Iran's supreme leader Ayatollah Ali Khamenei joined Hezbollah's campaign against the Special Tribunal for Lebanon . He announced after a meeting with the emir of Qatar, Sheikh Hamad bin Khalifa Al-Thani that any indictment handed down by a U.N.-backed court looking into the 2005 killing of former Lebanese Prime Minister Rafik Hariri will be "null and void."
The Pro Syrian Al Akhbar newspaper reported earlier in the month that Hezbollah has prepared a plan to take over Lebanon when STL issues its indictment for the 2005 murder of the late Prime Minister Rafik Hariri.
Free Patriotic Movement leader MP Michel Aoun , (a close ally of Hezbollah ) said on November 18 that Hezbollah might violently respond to an STL indictment that accuses Hezbollah party's members in Hariri's assassination.
On December 7 a leading Israeli Military Intelligence official expressed concerns that Hezbollah might seize control of Lebanese government institutions .
"Dozens will be killed when Hezbollah uses force and takes over government institutions," senior Military Intelligence official Colonel Yossi Adler told the Knesset in 'a possible scenario if Hezbollah is indicted by STL.'