Issa recasts self as Washington's whistleblower
Many democrats seem fearful about the intentions of Darrell Issa, the incoming Lebanese-American Chairman of the House Committee for Oversight and Government Reform.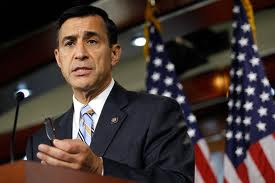 By Philip Rucker
Rep. Darrell Issa is finally getting what he has long craved: subpoena power. From his new perch atop the committee responsible for oversight investigations, the California Republican will be able to demand any document he wishes and summon anybody to appear before him – no small thing for a man who recently referred to President Obama as "one of the most corrupt presidents in modern times."
Even so, there's one thing Issa says he won't subpoena: Barack Obama's birth certificate.
"Mine is not the committee that asks where the president was born," Issa said in an interview. "It doesn't ask what ministers that he went to think. All that stuff is a distraction. I'm not the overseer of the president."
The minority's gadfly is trying to become the majority's measured man. Issa is working to shed his reputation as an omnipresent, henpecking nuisance whose shouting-forth turns into political headlines. Now empowered to vastly expand scrutiny across the federal government, including the White House, Issa wants to be seen as Washington's whistleblower – not the president's persecutor.
Issa is one of the most anticipated new leaders of a revived Republican Party intent on denying Obama a second term. He will have to balance his own temptation to embarrass the White House against the mission to ferret out waste, fraud and abuse.
If he overreaches, Issa knows his credibility will be zapped.
"Our committee is the committee of stopping government from taking away your liberties, government from exceeding its authority, government from keeping your business from expanding and growing, government from spending your money less efficiently than you would spend it yourself," Issa said.
'An obligation'
Asked whether he would pursue political prosecutions of the administration, Issa said: "I'm sure going to try not to. If there's a violation of the Hatch Act [which prohibits federal employees from engaging in political activities], my committee will deal with it because we have an obligation, but I'm not getting up every day and trying to create one."
This is a particularly restrained approach coming from a man whose achievements have come with bombast and velocity. After Issa (pronounced EYE-suh) and his brother ran into trouble with the law for car theft (Issa's brother, William, claimed responsibility), Darrell Issa invested all of his savings, about $7,000, in starting a car-alarm business that he grew into a behemoth. His flagship invention, the Viper, features Issa's deep voice ordering would-be thieves to "please step away from the car."
In 2003, when he tired of then-California Gov. Gray Davis (D), Issa spent $2 million of his own money launching a seemingly quixotic but successful bid to recall him by ballot petition. But Issa was elbowed out by another outsize personality, Arnold Schwarzenegger, and tearfully withdrew from the crowded race to succeed Davis.
Last year, as the House Oversight and Government Reform Committee's ranking member and with his party out of power at both ends of Pennsylvania Avenue, Issa parlayed his proclivity for publicity to establish a far bigger platform than his position would normally afford.
Now that Issa, 57, a Lebanese American who grew up working-class but is one of the wealthiest House members, is set to assume the chairmanship, his makeover is well underway. There are flashes of his former self, such as the 8-by-10-inch wood-framed photo of one of his countless appearances on Fox News displayed on the window ledge of his dark office. But these days, Issa is turning down some requests for lengthy sit-down interviews, and he seems cautious in the few he finds time for.
A change of tone
It was in October when Issa told Rush Limbaugh he thought Obama was "one of the most corrupt presidents in modern times." He later said he regretted the comment. Asked about his impressions of Obama, Issa said: "He's clearly smart. He's clearly focused and informed." Although, he said, "we don't summer together or anything."
The White House is awaiting Issa's moves, aware that his is the perch from which the opposing party historically has launched attacks to weaken the president.
"We will of course support Congress in meeting its legitimate oversight responsibilities," White House spokesman Reid Cherlin said. "It's our hope that the administration and Congress can work together to ensure that this important function is not abused to score political points or for other improper purposes."
During Bill Clinton's second term, Rep. Dan Burton (R-Ind.) issued more than 1,000 subpoenas, even investigating the conspiracy that White House aide Vince Foster's suicide was a murder
In the final two years of George W. Bush's administration, it was Rep. Henry Waxman (D-Calif.) who became a thorn in the side of the president. Waxman's committee probed Bush's ties to convicted lobbyist Jack Abramoff and whether his administration manipulated intelligence reports in the run-up to the Iraq war. (Issa called Waxman "a mean, angry man who wanted to berate people and bring them in front of Congress, and he did.")
"He can't just be a pit bull," said former congressman Tom Davis (R-Va.), who as committee chairman this decade mentored Issa. "There's the potential to discredit yourself by overreaching on some of these things . . . Darrell understands and will try to strike the right balance."
Rep. Elijah E. Cummings (Md.) was chosen last week to become the top Democrat on the committee, a position from which he said he will go "toe to toe" with Issa. In an interview before his appointment, Cummings called Issa "brilliant." He said Democrats should treat Issa's investigations like a chess game, always trying to be "seven steps ahead of him."
"I want to make sure that this president is treated fairly and that there is not an abuse of the process," Cummings said. "I don't want to see the witch hunts. I don't want to see the fishing expeditions."
In the past, Issa has suggested investigating a 2008 voter-intimidation case involving the Black Panthers, as well as the White House's attempts to remove Rep. Joe Sestak (D) from a Pennsylvania Senate primary by offering him – by way of former president Bill Clinton – an unpaid position in the administration.
Issa said he has not decided which investigations to launch in the new year. But he will almost assuredly continue the probe of Countrywide's VIP program that is suspected of giving elected officials reduced-rate mortgages and investigations into food safety and drug safety. "The intention is to have our first couple of hearings be those bipartisan issues we were already working on," Issa said.
Broader policy mandate
Issa plans to seize a far broader policy mandate than some of his predecessors to expose waste within the labyrinth of the federal bureaucracy, which is in line with his party's priority of cutting spending. He will give subpoena power to the dozens of inspectors general who serve as internal watchdogs at federal agencies.
Already, industries and other stakeholders who benefit from federal programs that could fall under Issa's microscope are readying their cases. Washington lawyers who help clients prepare for congressional investigations said business is booming.
"There's a whole cottage industry that's devoted to this, and if anything the midterm elections stimulated that part of the economy seriously," said Dean Zerbe, a former senior oversight aide to Sen. Charles E. Grassley (R-Iowa) who is managing director at Alliant Group.
Ted Hester, a senior partner at King and Spalding, added: "Clearly, the companies and the industries that are impacted by that are taking note. . . . You can't pick up a paper these days without seeing reference to oversight, oversight, oversight."
Issa's tenacity and public persona, which has some bite, probably scares many of his likely witnesses. "But it shouldn't," said Earl Devaney, a veteran inspector general at the Interior Department whom Obama tapped last year to oversee stimulus spending.
"I have found him to be tough, but fair," Devaney said. "If you appear before him, you ought to have your facts in order and be very honest and forthright with him. Or he will detect that you're not – and you'll be in trouble."