Gemayel: Syria decided to stop assassinations in Lebanon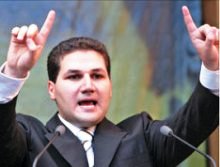 The son of former Lebanese president Bashir Gemayel, Phalange MP Nadim Gemayel said on Sunday during an interview with Voice of Lebanon (VOL) that "The assassinations of Lebanese leaders stopped when Syria decided to stop them."
"There is a certain party that is targeted and another that is responsible," he said stressing that the party that was targeted was March 14 figures and Syria was behind the assassinations
Commenting on the current impasse he said:
"The Lebanese situation is delicate… Hezbollah is capable of paralyzing state institutions."
Gemayel added that Hezbollah should know that "its weapons will not scare us."
"We will not allow Hezbollah to control Lebanon… and at the same time, we want to live together in the same country."
Amin Gemayel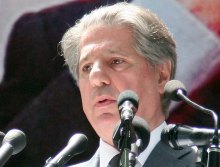 Former Lebanese president and Phalange party leader Amin Gemayel echoed the concerns of his nephew Nadim on Saturday during a ceremony marking Phalange's 75th anniversary when he acknowledged that Hezbollah is a major group in the country, but insisted that Lebanon cannot coexist with a Hezbollah state.
"Hezbollah is a major faction in the country and Lebanon remains a blend of various sects, but it cannot coexist with a Hezbollah state," brother of the slain Bashir Gemayel and father of the slain Pierre Gemayel said
"Why do we have the courage to start a war and not bring peace? Gemayel said in reference to Hezbollah continued threats
He accused the Hezbollah-led March 8 forces of rejecting the Special Tribunal for Lebanon.
Tension escalated in Lebanon following reports that the Special Tribunal for Lebanon will soon issue its indictment into the 2005 assassination of Lebanon's former Prime Minister Rafik Hariri. Last July, the Hezbollah chief Sayyed Hassan Nasrallah said that the tribunal is "an Israeli project" that will indict Hezbollah members. Nasrallah accused Israel of being behind Hariri's assassination but refused to provide the evidence to STL to support his claim. Hezbollah and its March 8 allies have been calling for the abolition of STL.
.