Hezbollah MP launches another attack against STL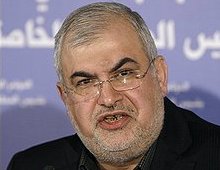 MP Mohammad Raad , who heads the Hezbollah parliamentary bloc launched another attack against the Special Tribunal for Lebanon (STL) and issued another warning toady :
"We are extending time until an agreement is achieved, and before Israel harms our stability and incites strife among the Lebanese by fabricating a forged Special Tribunal for Lebanon indictment," Raad said in a speech in Nabatiyeh on Sunday.
Raad is inferring to the Saudi Syrian efforts to ease the tension in Lebanon between the Iranian and Syrian backed Hezbollah and the March 14 majority alliance.
"Let us strengthen and not intimidate one another. Let us unite our stance, maintain our national unity and face an enemy that targets us all," he said
"It is about time for some to share with us this concern about Lebanon instead of directly or indirectly preparing for sedition. We are extending our hands to them to save them from the harm that the enemy wants to cause to us and them."
March 14 will respond
MP Hadi Hbeish, a key March 14 official confirmed that the Mustaqbal movement is set to hold a press conference next week in order to respond to the "legal errors" committed during Hizbullah MP Mohammad Raad's recent conferences over the Special Tribunal for Lebanon, according to Al-Mustaqbal newspaper .
Hbeish, who will hold the conference with MP Samir al-Jisr, said that he was appointed by Prime Minister Saad Hariri to prepare for the event.
He said that Raad's committed a number of legal errors that should not remain uncorrected before the public "and it is necessary to respond to them through facts and legal explanations in our possession."
"Our aim is to find out former PM Rafik Hariri's murderers and not confront Hezbollah," he added.
Tension in Lebanon
Tension escalated in Lebanon following reports that the Special Tribunal for Lebanon will soon issue its indictment into the 2005 assassination of Lebanon's former Prime Minister Rafik Hariri. Last July, the Hezbollah chief Sayyed Hassan Nasrallah said that the tribunal is "an Israeli project" that will indict Hezbollah members. Nasrallah accused Israel of being behind Hariri's assassination but refused to provide the evidence to STL to support his claim. Hezbollah and its March 8 allies have been calling for the abolition of STL.
Some leaders are concerned that should the court indict Hezbollah members, it could lead to a Sunni Shitte strife
The Pro Syrian Al Akhbar newspaper reported earlier in the month that Hezbollah has prepared a plan to take over Lebanon when STL issues its indictment for the 2005 murder of the late Prime Minister Rafik Hariri.
Free Patriotic Movement leader MP Michel Aoun , (a close ally of Hezbollah ) said on November 18 that Hezbollah might violently respond to an STL indictment that accuses Hezbollah party's members in Hariri's assassination.
On December 7 a leading Israeli Military Intelligence official expressed concerns that Hezbollah might seize control of Lebanese government institutions .
"Dozens will be killed when Hezbollah uses force and takes over government institutions," senior Military Intelligence official Colonel Yossi Adler told the Knesset in 'a possible scenario if Hezbollah is indicted by STL.'
March 8 politicians have called for the cabinet to task the Justice Council with investigating the so called false witnesses who reportedly gave unreliable testimonies to the international probe into the 2005 assassination of former PM Rafik Hariri. However, March 14 politicians believe that the regular judiciary should handle the matter.
Chairman of the Judicial and Administration Parliamentary Committee MP Robert Ghanem during an interview with "Arab week" and "Magazine" on Thursday explained the issue of false witnesses :
" Article 408 and some other articles of the Lebanese Penal Code define the false witness as the person who testifies to the judicial authorities and provides contradictory testimony , but the testimony before the security forces or law enforcement authorities ( not in front of a judge ) is considered a false testimony".