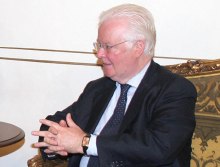 During an interview with the National News Agency (NNA) published on Sunday , UN Special Coordinator for Lebanon Michael Williams said that an Israeli withdrawal from the northern part of the disputed village of Ghajar would not by itself mean that UN Security Council Resolution 1701 has been completely implemented.
" This Israeli withdrawal if it happens is a step toward implementing Resolution 1701… There would still be Israeli citizens present on Lebanese territories, in addition to other things such as Israeli flights over Lebanon . We cannot say that Resolution 1701 has been completely implemented without resolving all these outstanding issues." He is inferring to the continued violations of Lebanese airspace by Israel , the continued occupation of Sheba Farms and Kfar Shouba hills and the fact that the Lebanese army will not be able to take over Northern Ghajar
Williams explained that although Israel's withdrawal of its troops from the northern part of Ghajar is a positive step, it is not enough because Lebanon is not capable of extending its sovereignty to the area.
In November, Israel's security cabinet backed plans to withdraw troops from part of Ghajar and hand over control to UNIFIL.
Headache for Lebanon
On December 5 Timur Goksel, former senior adviser of the UN Interim Force in Lebanon (UNIFIL) said : "The people of Ghajar say they are Syrians and do not want to be part of Lebanon," adding none of the village's 2,200 residents are Lebanese. "They say they have nothing to do with Lebanon, historically, politically, socially", Goksel told AFP. "If they become Lebanese they are going to lose all their privileges as Israeli citizens."
Israel's plan to pull its troops from northern Ghajar, is likely to prove more of a headache than a political victory for Beirut, experts say.
Ghajar embodies the conundrum of Middle Eastern politics: originally Syrian territory, it was seized by Israel along with the adjacent Golan Heights during the 1967 Arab-Israeli war. The tiny village was then cut in half in 2000, when Israel ended its 22-year occupation of southern Lebanon and withdrew south of the Blue Line, a UN-demarcated border which runs straight through Ghajar. But in 2006, Israel reoccupied northern Ghajar during its summer war with Lebanon's Shia resistance movement Hezbollah. Now Lebanon, Ya Libnan, Ahram
This error message is only visible to WordPress admins
Error: No connected account.
Please go to the Instagram Feed settings page to connect an account.