Allawi to join Iraqi government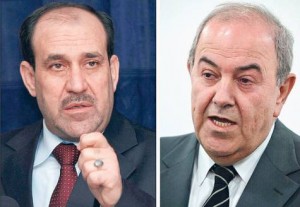 The head of a Sunni-backed political party will join the Shiite-led government being assembled by his top rival, a spokeswoman said Tuesday, clearing a final hurdle to end months of tortuous, post election deal making.
The breakthrough cements what the Obama administration has been pushing for as U.S. troops prepare to leave Iraq by the end of 2011: an inclusive government that distributes power among Sunnis, Shiites and Kurds to forge stability after more than seven years of war.
Former Premier Ayad Allawi had held out for months, insisting that he or one of his allies should be the next prime minister since his secular Iraqiya party narrowly won more seats than any other alliance in the March parliamentary election. He had long said he would refuse to join a government led by Shiite Prime Minister Nouri al-Maliki, whom many Sunni Muslims view with suspicion.
But after what appeared to be a warm 90-minute meeting between the two on Tuesday, Iraqiya spokeswoman said Maysoun al-Damlouji said Allawi has agreed to join the government as head of a newly created council to oversee security and foreign policy issues.
Allawi's turnabout essentially gives him veto power over many of al-Maliki's top priorities. It also affords him the same salary as al-Maliki — to be set by the new parliament — that is believed to currently be at least $360,000 annually.
The detente came after intense lobbying by Vice President Joe Biden and two U.S. ambassadors. It was one of the last major hurdles Iraq's leaders wanted to clear before announcing the nation's new leaders within a constitutionally required negotiation period that ends Dec. 25.
Aides said al-Maliki is now expected to formally announce the new government on Dec. 23. Parliament must then approve the Cabinet.
Allawi did not confirm that he had accepted a post in al-Maliki's Cabinet when briefing reporters after the discussion, which he described as "a positive fruitful meeting" where strategic affairs and Iraq's security were the top topics.
"We reached a joint vision," Allawi said of his former rival. "Each of us has an experience that complements the other."
Al-Maliki said the meeting focused on building a strong Iraq.
"There are great challenges and we have the ability to confront all these challenges," he said.
Al-Damlouji said Allawi expected to have broad powers as head of the National Council for Strategic Policies, a 20-member body that will serve as a counterbalance to al-Maliki's major security and foreign policy decisions.
Parliament will meet Saturday to discuss the creation of the new council and its powers. But a second aide to Allawi said 80 percent of the new council must approve the policies it oversees before they are enacted.
Last month, Allawi told CNN that he would not take part in al-Maliki's government and described the power-sharing deal as dead. His comments came after al-Maliki cobbled together enough support from Shiite allies, including Iranian-influenced religious hard-liners, to remain as prime minister even though his party fell short of winning the March 7 vote.
The election's failure to yield a clear winner threw Iraq into political chaos and stoked Sunni insurgents' hopes that they could use violence to return the country to the brink of civil war. With a wary eye on the planned departure of American troops at the end of 2011, U.S. officials since have been pushing Iraqi leaders to broker a compromise and form an all-inclusive government.
By all accounts, the back-room negotiating has been a politically painful and laborious process, with tensions between Allawi and al-Maliki so sour that a fellow lawmaker was taken aback by the warmth of Tuesday's meeting.
"I was happy and surprised at the harmony and the understanding in the meeting," said Shiite lawmaker and former Prime Minister Ibrahim al-Jaafari, who attended the discussion.
The political breakthrough came amid reminders of the violence that continues to beset Iraq. Roadside bombs struck crowds of Iraqi pilgrims as they prepared to mark the year's most solemn Shiite religious ceremony, killing three people and wounding at least 31, police said.
Shiite pilgrims from across Iraq are headed to Karbala for Ashoura, which marks the anniversary of the seventh century death of Imam Hussein in a killing that sealed Islam's historic Sunni-Shiite split. Karbala is located about 50 miles (80 kilometers) south of Baghdad. Sunni insurgents in Iraq have frequently targeted Shiite shrines and pilgrims.
Separately, a roadside bomb in the northern city of Kirkuk killed one passer-by and wounded two others, city police and hospital officials said. The explosion was not related to the religious pilgrimage. AP