Holbrooke's death complicates Af-Pak peace efforts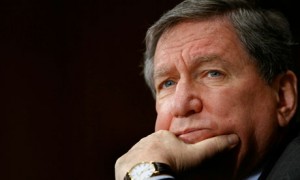 The death of envoy Richard Holbrooke leaves the U.S. without a tough hand whose stature, tenacity and extensive contacts allowed him to weave together once-separate diplomatic efforts in Afghanistan and Pakistan.
With so many agendas to track — including military, diplomatic and legislative — finding a successor will be challenging. Holbrooke's extensive background in major posts from Vietnam to Germany and the former Yugoslavia will be hard to replicate.
"The office was created essentially for him and built by him to try to enable diplomatic and civilian side efforts to connect what had been two stove-piped policies under the last administration," said Daniel Markey, a South Asia expert with the Council on Foreign Relations. "Ambassador Holbrooke was playing a multilayered game. This is not an easy job."
"When he spoke to the powerful in the region it was clear he had the ear of those to whom he spoke because he had the ear of the powers in Washington," said Michael Corgan, a professor of international relations at Boston University. "There is no one on the horizon to replace him in this role."
In Afghanistan, Holbrooke, 69, was the civilian point man for the Obama administration's push to shift more responsibility to Afghan troops and the Afghan government so that U.S. troops could withdraw. In Pakistan, Holbrooke tried to improve the U.S. image through humanitarian aid, while nudging the military and government to eradicate safe havens for Taliban and al-Qaida militants on their side of the border with Afghanistan.
After repeated visits over many months to both countries, Holbrooke's efforts had yielded mixed results.
He seemed to have reached a comfort level with Pakistan's civilian leaders, and his death could mean that the U.S. may have to rely more on its military-to-military contacts in the coming months to press its agenda in Islamabad, analysts said. But his efforts in Kabul faltered in part because he had a frosty relationship with Afghan President Hamid Karzai.
Holbrooke's death Monday, following surgery for a tear in his aorta, comes just days before the Obama administration is expected to roll out the results of its review of the Afghanistan war. And, even as flags flew at half-staff for him at the State Department on Tuesday, President Barack Obama convened his Afghanistan-Pakistan policy team at the White House to plot a way ahead.
"Few have done as much to achieve success; none have done more," said Adm. Mike Mullen, the chairman of the Joint Chiefs of Staff. "I know we will all feel his bully presence in the room as we do so."
Officials from both Pakistan and Afghanistan issued statements of condolence Tuesday.
The praise appeared much more effusive on the Pakistani side. President Asif Ali Zardari and Pakistan's ambassador to the U.S., Husain Haqqani, both called him a "personal friend." That could be a possible sign of the difficulties Holbrooke faced in his relations with Karzai, who issued a brief statement calling Holbrooke's death "a big loss for the American people."
Holbrooke pushed Karzai to root out the corruption that has made his government unpopular with the Afghan people and helped fuel the resurgence of the Taliban. Holbrooke's headstrong style angered Karzai, who complained privately that the American did not understand Afghan culture. It fell to Sen. John Kerry — and not Holbrooke — to persuade the Afghan president to agree to a runoff after the fraud-marred presidential election last year.
"I regret his death but he had trouble here," said Farooq-e-Azam, an Afghan who fought along with other U.S.-supported fighters against the Soviets. "He was not able to do well here. He could not find a language with the president."
Though Holbrooke was not one to stray from the Obama administration's public stance on the conflict, including the decision to send more U.S. troops, he reportedly was more keen on seeking a political solution to the war.
Now, as consensus is growing that the U.S. and the Afghan government may have to settle for some sort of political settlement with the Taliban, whoever replaces Holbrooke may end up focusing on possible negotiations with insurgents.
For now, Holbrooke's death leaves Ambassador Karl Eikenberry essentially alone in conducting U.S. diplomacy with Karzai's government, and his relationship was strained by leaked cables posted by Wikileaks.
"You don't have a lot of slack" in replacing Holbrooke, said Anthony Cordesman, a military analyst for the Center for Strategic and International Studies in Washington. "The problems with Afghanistan's and Pakistan's governments are problems that seem to be a crisis a month. You have to have someone maintaining these relationships."
For their part, the Afghan Taliban issued a statement Tuesday attributing Holbrooke's death to "constant psychological stress" caused by American failures in the region. The statement from militant spokesman Qari Yousef Ahmadi said his death should have a "didactic," or instructive, effect on U.S. policy, and urged the Americans to "abandon their dream of military domination and colonial sway in Afghanistan."
On the Pakistan front, Holbrooke was a major player in pushing for more humanitarian aid, including a five-year $7.5 billion program that is in part aimed at chipping away at the widespread anti-American sentiment in the country. During the floods that ravaged Pakistan this year, Holbrooke visited relief camps and tried to increase publicity of U.S. aid efforts.
What Holbrooke and others in the Obama administration have failed to do is persuade the Pakistani military to stage an offensive against militant groups based in the North Waziristan tribal region. Those militant groups, such as the Haqqani network, are focused on the war in Afghanistan and have avoided attacking the Pakistani state. Speculation persists that Pakistan's intelligence agencies view them as potential assets to influence Afghanistan once U.S. troops withdraw.
American officials have said they want to support and help strengthen the civilian government in Pakistan, which has a history of military coups. But now, with Holbrooke gone, "it will mean that the Pakistani-U.S. military-to-military relationship will strengthen in the short- to medium- term," said Ayesha Siddiqa, a Pakistani military analyst.
Still, Pakistan's Foreign Ministry spokesman Abdul Basit said the relationship had grown beyond individuals, especially with the ongoing strategic dialogue between the two nations.
"In the last two years we have been able to broaden our relations and Ambassador Holbrooke played a pivotal role in that," Basit said. "Things are being institutionalized, so that should help to sustain the momentum. We will miss him in the process." AP