Mitchell tries to salvage peace talks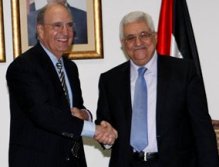 Washington's Middle East peace envoy has met Mahmoud Abbas, the Palestinian president, in Ramallah, as part of a bid to salvage peace talks between the Israelis and Palestinians
The meeting on Tuesday came as Israeli authorities bulldozed two Palestinian homes under construction in East Jerusalem. The city's planning council also approved the construction of 24 new Jewish homes in an Arab neighbourhood.
Launching a fresh round of shuttle diplomacy in the region since negotiations hit an impasse over settlement building, George Mitchell met on Monday with Binyamin Netanyahu, the Israeli prime minister, at his Jerusalem office.
"There have been many difficulties, obstacles and setbacks along the way," said Mitchell, before stating the goal of creating "an independent, viable state of Palestine in which its people have the dignity of freedom and self determination, living side by side in peace with Israel".
The US point-man for the region has pledged to achieve "real progress" in the coming months toward a peace deal.
Mitchell had shuttled between Israeli and Palestinian leaders for months before direct talks were launched in September. The talks broke down several weeks later when Netanyahu refused to extend a 10-month freeze of housing starts in settlements in the occupied West Bank.
Israel has welcomed the idea of returning to so-called "proximity talks", but the Palestinians have not yet agreed to participate.
"Mitchell brought some US ideas," Nabil Abu Rudeina, an Abbas spokesman, said, without going into detail.
"We will wait for the Arab Committee to discuss (them) and to decide," he said, referring to a meeting of Arab League foreign ministers in Cairo on Wednesday, which Abbas is set to attend.
Divided capital
Saeb Erekat, the Palestinian Authority's chief negotiator, has blamed Israel for the change in the peace-making discourse.
"Whoever speaks about reaching a comprehensive peace and a two-state solution should make the Israeli government stop all settlement activities and whatever actions they are carrying out in Jerusalem, whether house demolition or deportation of residents," Erekat told reporters.
The Jerusalem municipality has just approved the construction of 24 homes in As Suwwana, east of Jerusalem's Old City at the foot of the Mount of Olives, settlement watchdog Peace Now said on Tuesday.
Israeli authorities also demolished two Palestinian homes on Tuesday which were under construction in occupied East Jerusalem, officials said. Dozens of police were at the scene as a bulldozer razed a single-storey building being built in the southern Sur Bahir neighbourhood.
Elsewhere, police shut down roads as they went to demolish another smaller home in Ras al-Amud, also uninhabited and near the Mount of Olives.
Fakhri Abu Diab, a local Palestinian official from the Silwan neighbourhood who witnessed the demolitions, said both homes were being built without a permit.
Permits for Palestinians to build in mainly Arab East Jerusalem are extremely rare and the Jerusalem municipality frequently issues demolition orders, despite the sensitive nature of such operations on land the Palestinians want as capital of their future state.
Israel captured east Jerusalem in the 1967 Six-Day War and officially considers the whole of Jerusalem as its "eternal and indivisible" capital.
Shifting focus
With direct talks at an end for now, Hillary Clinton, the US secretary of state, announced on Friday the US would refocus efforts on a return to indirect talks and that Washington would also push to resolve core issues in the six-decade-old conflict.
These issues include borders, security, the future of Jerusalem, West Bank settlements, and Palestinian refugees.
Palestinians, who have been highly critical of the US policy shift, said the seriousness of any diplomacy would depend on a halt to settlement building and setting out clear terms of reference.
With the new US emphasis on discussing core issues, Netanyahu is expected to come under growing pressure from Washington to reveal his positions, especially on borders.
Until now, the Israeli leader has declined, saying he would only do so in direct talks. The Palestinians have said they have presented detailed positions in the past.
In a document presented to the Americans earlier this year, the Palestinians said they want a state in the West Bank, Gaza and East Jerusalem, territories captured by Israel in the 1967 Mideast War, but that they are willing to swap 1.9 per cent of the land to enable Israel to keep large settlement blocs.
Ehud Olmert, Netanyahu's more moderate predecessor, made a somewhat similar offer to the Palestinians in late 2008, but there was no agreement on it. Aljazeera