Clinton stressed to UN enovoy US commitment to Lebanon's sovereignty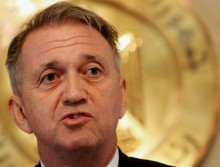 US Secretary of State Hillary Clinton has met with UN special envoy for Lebanon Terje Roed-Larsen to discuss the current situation in Lebanon, the State Department said Saturday.
In her meeting Friday with Norwegian Roed-Larsen, Clinton "emphasized the United States' commitment to Lebanon's sovereignty, territorial integrity, unity, and political independence," the statement read.
Roed-Larsen is UN special envoy for Resolution 1559, a 2004 measure calling for free and fair presidential elections in Lebanon, the withdrawal of all remaining foreign forces in the country, and the "disbanding and disarmament of all Lebanese and non-Lebanese militias."
On Friday, Vice President Joe Biden spoke by phone with Lebanese Prime Minister Saad Hariri and assured him of US support as a UN tribunal probes the the 2005 assassination of his father, which continues to stoke tensions in Lebanon.