U.S. administration will keep pushing for Mideast deal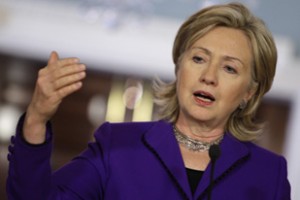 The Obama administration will continue to try to negotiate the outlines of an eventual peace deal between Israelis and Palestinians through indirect talks, Secretary of State Hillary Rodham Clinton said Friday evening, implicitly acknowledging that the direct talks launched with fanfare just three months ago had failed.
The new plan essentially abandons several elements of the administration's approach since it took office. Clinton made clear the United States still disapproves of Jewish settlement expansion in Palestinian areas but will no longer demand a freeze. The push for immediate direct talks between Israeli and Palestinian leaders – a central focus for months – is also largely gone.
Instead, according to Clinton's remarks prepared for delivery before a dinner sponsored by the Saban Forum, the administration will press the parties to agree on the elements of a peace deal, but without at first talking to each other. She also pledged the administration would privately offer its own proposals to resolve problems when the parties fall short.
"We will work to narrow the gaps, asking tough questions and expecting substantive answers," Clinton said to a crowd that included many veterans of past failed diplomatic efforts, including Israeli Defense Minister Ehud Barak, Israeli opposition leader Tzipi Livni and Palestinian Prime Minister Salam Fayyad. "And, in the context of our private conversations with the parties, we will offer our own ideas and bridging proposals when appropriate."
Clinton said that "by doing this, the parties can rebuild trust, demonstrate their seriousness, and hopefully find enough common ground on which to eventually relaunch direct negotiations and achieve a framework agreement."
Clinton's lengthy speech repeated much familiar rhetoric, but did offer some clues to the administration's emerging approach. In one pointed phrase, she said, "The Palestinian leaders must be able to show their people that the occupation will be over." She called for agreement "on a single line drawn on a map that divides Israel from Palestine."
Clinton's language seemed designed to rebut Israeli Prime Minister Binyamin Netanyahu's insistence that his country should be able to maintain a residual presence in some Palestinian areas, such as the Jordan Valley.
But on other issues, such as whether Palestinian refugees have any right to return to their homes in Israel, Clinton was extremely vague. She called it "a difficult and emotional issue, but there must be a just and permanent solution that meets the needs of both sides." Israeli leaders have said no Palestinians should be able to return – they would offer possibly some compensation – while Palestinian officials have always held out the dream of eventual return.
"They are doing what might have been wise much earlier – that is making indirect talks 'substantive two-way conversations,' about real things rather than just a fallback," said Daniel Levy, a former Israeli peace negotiator now at the New America Foundation.
Levy noted that Netanyahu had opposed this approach, saying that he would tip his hand only in direct talks. "I would argue back-to-back talks, if the U.S. throws its weight around a bit, are more likely to advance the ball than direct bilateral negotiations," Levy added.
President Obama has made achieving an Israeli-Palestinian peace agreement a central focus of his administration, appointing a special envoy on his second day in office. Yet the effort has been fraught with difficulties from the start.
The president immediately got into a highly public spat with Netanyahu over the continued expansion of Israeli settlements. Whereas recent administrations had largely paid lip service to objecting to settlements, Obama, Clinton and other senior officials demanded a full freeze. This in turn emboldened Palestinian officials to say they would not agree to direct talks until settlement-building had halted.
Ultimately, Netanyahu agreed to a partial, 10-month settlement mortatorium, with administration officials hoping that it would be extended if the talks made progress. But the freeze – which Clinton had called "unpredented" – was not good enough for the Palestinians. They refused to agree to direct talks until the moratorium was nearly ended.
Though the administration launched talks in September at the White House, they ended just weeks later when the freeze expired. The Palestinians refused to come to the table, and Netanyahu said he could not extend the freeze without toppling his government.
In her speech, Clinton called settlements "an issue that must be dealt with by the parties along with the other final status issues." She noted that "like every American administration for decades, we do not accept the legitimacy of continued settlement activity." But clearly such opposition in the future would be muted and in private, and not the central focus, as in the last 23 months.
Still, Clinton's reframing of Washington's effort suggested that Obama has not given up on his belief that solving the Israeli-Palestinian issues is in the U.S. national interest.
"Continuing conflict also strengthens the hand of extremists and rejectionists across the region, while sapping the support of those open to coexistence and cooperation," she said. "Radicalization of the region's young people and growing support for violent ideologies undermine the stability and prosperity of the Middle East."
"I know that improvements in security and growing prosperity have convinced some that this conflict can be waited out or largely ignored," she said. "This view is wrong and it is dangerous." She added that long-term population trends endanger the vision of a "Jewish and democratic state" while the evolving "technology of war" means that no Israeli family will be safe from militants' rockets. Washington Post