West concerned over Iran arms smuggling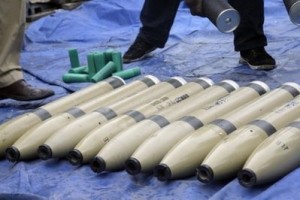 The recent seizure of two shipments of Iranian arms and explosives, while representing a fraction of such banned cargo, shows the effectiveness of United Nations sanctions against the Islamic Republic, a French envoy said.
The UK called at the UN Security Council for a possible tightening of sanctions measure against Iran
"This is only the tip of the iceberg," Martin Briens, France's deputy ambassador to the UN told the Security Council today. "There is a considerable flow of arms and other dangerous materials that once again has come to light. It shows sanctions do have an impact."
Briens was referring to Nigeria's seizure in October of a shipment of Iranian rockets, grenades and mortars, and Italy's interception in September of several tons of what were described in the Security Council as "high potential explosives."
Japan's Ambassador Tsuneo Nishida, chairman of the Security Council committee to monitor enforcement of sanctions against Iran, said the explosives hidden in a container labeled as powdered milk were destined for Syria. The Haaretz newspaper, citing an unidentified Israeli official, said the arms seized by Nigeria were going to the Gaza Strip.
"There are new worrying routes that have been identified in Africa," Briens said. "This shows the magnitude and diversity of Iranian practices seeking to evade sanctions. Iran has to make use of increasingly complex and complicated routes and schemes."
The Security Council has adopted four sets of sanctions intended to block Iran's suspected development of nuclear weapons. The measures, which demand that Iran halt uranium enrichment, also bar exports of arms and explosives and urge all nations to intercept Iranian cargo suspected of containing banned materials.
Urging Investigation
U.S. Ambassador Susan Rice commended Nigeria and Italy for intercepting the arms and urged further inquiry.
"Investigations into these incidents can help us better understand and to halt Iran's arms smuggling and proliferation networks in violation of this council's resolutions," Rice said.
The Security Council meeting followed two days of talks in Geneva on the nuclear issue between Iran and the so-called P5+1 group — comprising China, France, Germany, Russia, the U.K. and U.S.
While Iran said it would "absolutely not" suspend uranium enrichment, the Islamic state agreed to more talks on its nuclear program, marking the first time in a more than a year that diplomatic options for the dispute are being kept alive.
Iran, whose UN mission didn't respond to a request for a comment on today's Security Council meeting, says it's producing enriched uranium to fuel atomic reactors.
"Let me reiterate my government's commitment to a dual- track strategy of both pressure and engagement to convince Iran's leadership to change course," Rice said. "We aim to continue the careful, phased process of building confidence between Iran and the international community." Bloomberg
Photo: Arms removed from a crate off-loaded from a container at Apapa Port are displayed by authorities in Lagos in October 2010. Nigeria has reported the discovery of an illegal arms shipment from Iran to the UN Security Council,