Jordan, Lebanon, Syria, Turkey, to set up strategic cooperation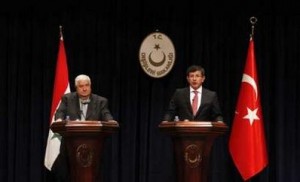 Turkish Foreign Minister Ahmet Davutoglu said Thursday that a regional strategic cooperation mechanism among Jordan , Lebanon, Syria and Turkey, is going to be set up.
Davutoglu made the remarks at a joint press conference with visiting Syrian Foreign Minister Walid Moallem after their talks in the Turkish capital Ankara. He did not elaborate on the details of the mechanism.
Davutoglu said that Turkish-Syrian relations were improving and the two countries had full-scale cooperation, adding that the two foreign ministers discussed the preparations of the second High- Level Strategic Cooperation meeting to be held on Dec. 21.
Referring that 51 agreements were signed between Turkey and Syria last year, Davutoglu said that the second meeting would focus on implementing these agreements and projects.
"We believe this relationship is the one which will change fate of the region," he said.
Davutoglu said that they also discussed the latest developments in Lebanon and Iraq in their talks. "Iraq's stability is of great importance for Turkey and Syria," he said.
Turkey and Syria shared similar perspectives in regard to regional issues, Davutoglu added.
For his part, Moallem voiced his country's desire to further improve its strategic cooperation with Turkey, adding that Syria was determined to exert more support for stability in Lebanon. Xinhua