Russian Deputy FM in Lebanon to meet key officials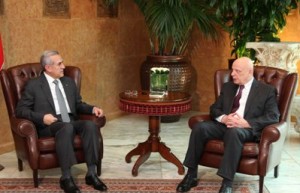 Russian Deputy Foreign Minister Alexander Soltanov who arrived Saturday in Lebanon on an official visit has been meeting with key Lebanese officials with the aim of reducing tension in Lebanon.
During his meetings , he is being accompanied by a delegation from the Russian embassy including Russian Ambassador to Lebanon Alexander Zasypkin.
His first meeting was with Lebanese Prime Minister Saad Hariri. Following the meeting Hariri press office issued a statement which said the two discussed the situation in Lebanon and the region.
"Our visit to Lebanon comes as part of a new tour in the region in order to maintain bilateral talks," Soltanov said, according to the statement
"We will maintain our talks with Lebanon and focus on the developments in the Middle East and in Beirut." The statement quoted Soltanov as saying
His second meeting was with Lebanese president Michel Suleiman at the Baabda presidential palace. Following the meeting Soltanov said : "Work is underway to put the aid earmarked for Lebanon, especially the military part, into practice and added " The Russian Federation will continue supporting Lebanese institutions."
His third meeting was Hezbollah MP Mohammed Raad in Nabatiyeh in South Lebanon. National News Agency (NNA) that the Lebanese situation was discussed. After the meeting Raad said: "We discussed with Sultanov the threats created by the international tribunal, which has not been abiding by the standards of justice and which is politicized in the service of biased ends."
His fourth meeting was with Lebanese speaker Nabih Berri at the latter's Msayleh residence in south Lebanon. Following the meeting with Berri Soltanov said: "We do not interfere in the domestic affairs of any country and no one has asked us for initiatives on solutions to the stalemated issues. This is your business, and we can only support the political will to resolve matters "
Soltanov said "Russia is concerned about developments in Lebanon because the country plays a role in the region."
He continued : "What happens in Lebanon , definitely affects the entire region," he said, adding " that dialogue and consensus are the only solution to resolving problems in the country."
Earlier today an unnamed source close to Berri quoted him as voicing hope that Russia would play an effective role in the region, National News Agency (NNA) reported on Saturday.