Hezbollah escalaltes its attack against Hariri Tribunal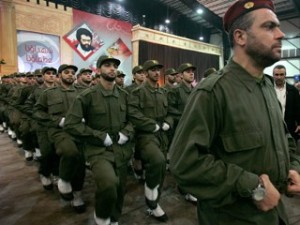 As Lebanon waits for the Special Tribunal for Lebanon indictment over the killing of Lebanon's former prime minister Rafik Hariri Hezbollah relaunched another threat campaign against the Tribunal .
Hezbollah politburo member Mahmoud Qmati said today: "When we say that the issuance of the indictment might cause unrest, that does not mean that we are plotting a coup. There is no force on earth that can weaken or besiege the Resistance."
MP Hasan Fadlallah who represents Hezbollah said on Saturday : " We know how to protect our Resistance, how to defend it and how to face these conspiracies that are being plotted against our country. Those who are conspiring against Lebanon and the Resistance are the ones who have to worry."
Deputy Head of Hezbollah's Executive Council, Sheikh Nabil Qaouq said on Saturday:" The Opposition will turn the indictment into a burden for those behind it. Those who fabricated false witnesses are the same ones who fabricated false evidence."
Ali Abdullah Hussein, Youth and Sports Minister of Lebanon who represents the Amal Movement ( Hezbollah key ally) said on Saturday: "I don't know how the cabinet would discuss the issue of false witnesses which has been used to mislead the investigation into Hariri's murder."
Former minister Wiam Wahhab a staunch ally of Syria and Hezbollah told New TV on Saturday that Prime Minister Saad Hariri will not remain the country's PM if he continues to support the Special Tribunal for Lebanon (STL).
"A Lebanese agreement by the Lebanese people alone will not lead anywhere. We are waiting for the Syrian-Saudi efforts, but optimism has decreased ," he said.
Hezbollah Deputy Secretary General Sheikh Naim Qassem said on Saturday that the Special Tribunal for Lebanon (STL) is controlled by Israel and the US, National News Agency (NNA) reported.
"The STL lacks the minimum standards of justice and credibility… What it caused in the past five years shows that the tribunal has deviated from its course of justice . It therefore serves intelligence bodies… and is targeted against the Resistance"
"According to us, the tribunal does not exist," Qassem said, adding that it does not have an authority over Lebanon.
The March 8 coalition has done all it can do, but Prime Minister Saad Hariri and his party are the ones responsible for coming up with a settlement that can save Lebanon from the "scarecrow" that is the STL, he added.
MP Mohammad Raad who represents Hezbollah
"Everyone must bear the results if the Special Tribunal for Lebanon (STL)'s indictment is issued without a compromise," adding said the party is stronger than the attempted plots targeting it, according to National News Agency (NNA) .
"Lebanon's image will gradually change if a domestic understanding is not reached." He said
Not effective
March 14 General Coordinator Fares Soueid said on Saturday that Hezbollah's "threatening logic" will not yield solutions to the current Lebanese impasse.
"Hezbollah's logic is not effective in resolving current disputes," Soueid told LBCI television.
He also reiterated March 14's commitment to the Special Tribunal for Lebanon (STL).
Tension in Lebanon
Tension escalated in Lebanon following reports that the Special Tribunal for Lebanon will soon issue its indictment into the 2005 assassination of Lebanon's former Prime Minister Rafik Hariri. Last July, the Hezbollah chief Sayyed Hassan Nasrallah said that the tribunal is "an Israeli project" that will indict Hezbollah members. Nasrallah accused Israel of being behind Hariri's assassination but refused to provide the evidence to STL to support his claim. Hezbollah and its March 8 allies have been calling for the abolition of STL.
Some leaders are concerned that should the court indict Hezbollah members, it could lead to a Shiite-Sunni strife.
The Pro Syrian Al Akhbar newspaper reported earlier in the month that Hezbollah has prepared a plan to take over Lebanon when STL issues its indictment for the 2005 murder of the late Prime Minister Rafik Hariri.
Free Patriotic Movement leader MP Michel Aoun , (a close ally of Hezbollah ) said on November 18 that Hezbollah might violently respond to an STL indictment that accuses Hezbollah party's members in Hariri's assassination.
On December 7 a leading Israeli Military Intelligence official expressed concerns that Hezbollah might seize control of Lebanese government institutions .
"Dozens will be killed when Hezbollah uses force and takes over government institutions," senior Military Intelligence official Colonel Yossi Adler told the Knesset in 'a possible scenario if Hezbollah is indicted by STL.'