Suleiman calls on Judges to be 'protectors of freedom'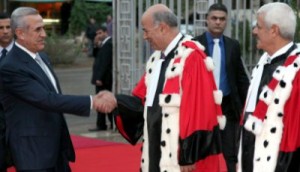 In a speech marking the beginning of the 2010-2011 Judicial Year , President Michel Suleiman called for a judiciary that is "strong, capable, independent and modern and a protector of freedoms."
Suleiman said the responsibility for the independence of the judiciary rests primarily on the judge, who should remain honest and competent.
"The charter of national accord affirmed the judiciary's autonomy," the president said
"Intense efforts are underway to activate the judiciary's role and there is a great need today to fortify it against political interests," Suleiman added.
Tension escalated in Lebanon following reports that the Special Tribunal for Lebanon will soon issue its indictment into the 2005 assassination of Lebanon's former Prime Minister Rafik Hariri. Although the United Nations-sanctioned tribunal has remained tight-lipped about who will be indicted , Hezbollah chief Sayyed Hassan Nasrallah said last July that the tribunal is "an Israeli project" that will indict Hezbollah members. Nasrallah accused Israel of being behind Hariri's assassination but refused to provide the evidence to STL to support his claim. Hezbollah and its March 8 allies have been calling for the abolition of STL.
While some Lebanese believe the tribunal is necessary to end the era of assassinations and bloodshed, others fear that laying blame for Mr. Hariri's murder on Hezbollah could lead to a Shiite-Sunni strife.
Hezbollah emerged as a potential suspect in the Hariri assassination last year. Originally, all fingers pointed to Syria