DAMAC Tower, a VERSACE Home branded luxury residential tower in Lebanon by DAMAC Properties, has won the 2010 Best High-rise Architecture Award at the International Property Awards.
DAMAC Properties' landmark collaboration with VERSACE Home in Lebanon beat a field of international developers to win the award. The winners were honoured at the 17th International Property Awards ceremony held in London on 27 November 2010.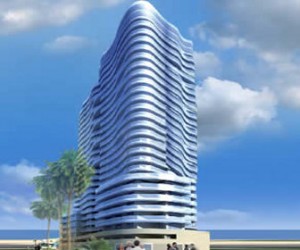 DAMAC Tower features a stunning blend of exquisite VERSACE interiors and unique architectural design, in a desirable location on the shores of the Mediterranean. DAMAC Tower is the first exclusive VERSACE Home branded residential tower in the region. Situated in the elite marina area of the new Solidere development in Beirut, DAMAC Tower has extensive views of the Mediterranean.
The 28-storey building is notable for its spectacular flowing curves and undulating volumes designed to mimic the surging waves of the ocean. DAMAC Tower features spacious private units resplendent with custom designed interiors. All the common areas including the health and fitness facilities, the concierge reception, and the main lobby will feature VERSACE Home products.
DAMAC Properties' partnership with VERSACE, the world-renowned Italian fashion house, defined the interiors of DAMAC Tower.
The judging of the International Property Awards was carried out by an esteemed panel of international judges. Established 16 years ago, the International Property Awards are dedicated to finding the most outstanding property professionals across the globe. Four gala events are held during the year in various prominent locations such as Singapore, San Diego, London and Dubai, where winners are presented with their awards. BLOOMBERG TELEVISION has recently signed a sponsorship deal to present the awards.
DAMAC Properties has a track record of designing and developing world-class luxury projects across the Middle East, North Africa and the Levant. WIDN