Shark attack kills German tourist in Egypt
A German woman has been killed in a shark attack while snorkelling off the Egyptian Red Sea resort of Sharm el-Sheikh, officials say.
The death comes after four people were injured in similar attacks at the resort earlier in the week.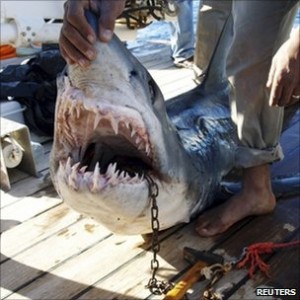 Egyptian authorities had re-opened the waters after saying they captured the sharks involved in the earlier attacks.
But some experts said the shark responsible was still loose in one of the world's most popular diving areas.
Egyptian officials said the German woman had died immediately after the attack. There were reports that either one arm or both legs had been torn off.
Egypt's environment ministry had displayed a photo of one the two captured sharks, an Oceanic White Tip.
But divers and conservationists said it was not the same species thought to have carried out the previous attacks, on three Russians and a Ukrainian.
Once again the waters off Sharm el-Sheikh have been closed to watersports. BBC