Egypt holds parliament runoffs amid fraud claims
Egypt held runoff parliamentary elections Sunday that are certain to hand President Hosni Mubarak's ruling party a crushing victory after the two main opposition groups decided to boycott in protest of alleged fraud in the first round.
With a large-scale crackdown that included arrest sweeps, Egypt's ruling establishment appeared determined to purge the largest opposition group, the fundamentalist Muslim Brotherhood, from the next legislature. The aim seems to be to ensure the Brotherhood cannot use parliament as a platform for dissent amid uncertainty over the country's future and in the lead-up to next year's more crucial presidential elections.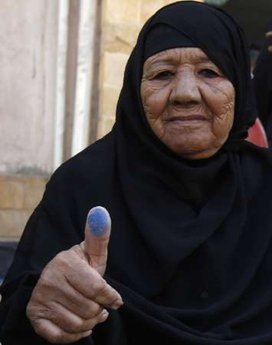 Both the Brotherhood and the other key opposition group, the liberal Wafd party, boycotted Sunday's runoffs. As a result, most of the contests now pit rival candidates from Mubarak's National Democratic Party against each other, ensuring a parliament almost entirely made up of the ruling party, with a few seats going to independents and smaller parties.
"NDP versus NDP," said the headline in the Wafd party's newspaper.
Such an outcome could backfire for Egypt's regime, eliminating any outward appearance of a fair vote and depriving them of any democratic legitimacy.
After the first round, the Obama administration said it was disappointed by widespread reports of irregularities that cast doubt on the credibility of the polls in the strong U.S. ally.
With apparently so little at stake, turnout Sunday appeared even lower than a week earlier, with only a small trickle of voters seen going into several polling stations in Cairo, a city of some 18 million people.
"People preferred to stay away, even though some candidates are offering 200 pounds (about $34) per vote," said Salah Ibrahim, a representative of one of the contenders, referring to plainly evident vote buying.
He spoke from a polling station that saw so few voters some election workers were napping on benches.
The Brotherhood, the country's best organized opposition group, controlled a fifth of the outgoing parliament but failed to win a single seat in the Nov. 28 first round. Twenty-seven of its candidates had been slated to contest the runoffs.
The Brotherhood campaigns under the slogan "Islam is the solution" and promotes the creation of a more Islamic society in contrast to Mubarak's secular government. It also talks of fighting corruption and heavy bureaucracy and of ending the three-decade emergency law that gives authorities free rein to confront opponents.
The small Wafd party won two seats last week, and the decision to boycott Sunday's balloting led to divisions within the party. Scuffles broke out last week outside the party's Cairo headquarters in a standoff between rival camps for and against the boycott.
The party warned its six candidates eligible to contest runoffs that they would be expelled if they win seats. At least one refused to back down.
Sunday's voting will decide the fate of more than 50 percent of parliament's seats. Of the chamber's 518 seats, 508 are contested in elections. Mubarak appoints 10 lawmakers.
The country's election commission estimated turnout for last week's voting at 35 percent, but rights groups put the figure at no more than 15 percent.
Around midday on Sunday, the election commission described turnout as low but did not give a precise figure.
There are questions over the future of the country's leadership after the 82-year-old Mubarak underwent surgery earlier this year to remove his gallbladder and a benign growth in his small intestine.
Mubarak is believed to be grooming his son Gamal to succeed him. But there is widespread public opposition to the "inheritance" of power, and Mubarak could still decide to run again in next year's election.
The Brotherhood, which is banned but runs candidates as independents, came under a heavy crackdown before the vote and about 1,400 of its activists were arrested during the campaign. AP