120 fires erupt in Lebanon during the weekend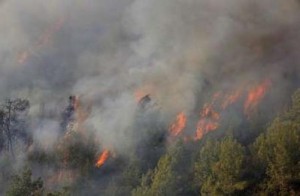 Forest fires raged across Lebanon Sunday, with the country's interior minister hinting the possibility of arson.
According to official figures released by the country's Civil Defense ministry, about 120 fires broke out on Saturday and Sunday, prompting Lebanese President Michel Suleiman to visit affected areas.
Political bickering in the country delayed all developmental projects, Suleiman said during a tour of the affected village of Fitri, 45 km north of Beirut.
"Fires have reached the homes of people who have nothing to do with politics," the president said. Several of Fitri's residents were forced to flee their homes after flames reached closes to the village's residential areas.
Suleiman said real crisis management strategies should be carried out in order to douse raging fires.
Several media reports said Lebanon has asked Turkey for help to put off the flames raging in the woods. Apart from three firefighting helicopters, Lebanon lacks equipment to extinguish forest fires that erupt on a near yearly basis.
Lebanon's neighbor Israel has been battling blazes that erupted in the Carmel hills above the Mediterranean port of Haifa for the past three days.
The eastern-Mediterranean region has been witnessing unseasonably high temperatures over the autumn season, threatening crops and heralding serious water shortages.
Lebanon's meteorological department predicted the hot weather to ease as of Monday morning with showers and a drop in temperatures expected.
Braroud suspects arson
Lebanese Interior Minister Ziad Baroud said 120 fires erupting on the same day all "raises serious questions about the possible involvement of arsonists."
In an interview with LBC television while inspecting the blaze-hit Jbeil town of Fatri, Baroud voiced his fears that some of the fires might have been intentionally set, noting "that the army's helicopters and the Sikorsky firefighting aircraft currently engaged in combating the fire are not enough."
The minister revealed that "the interior ministry is working on providing fifty 4×4 vehicles, each with a capacity of 50,000 liters, for rapid intervention upon the eruption of any blaze."