Hariri in Oman to meet Sultan Qabous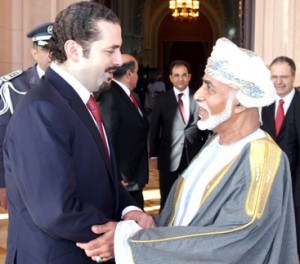 Lebanese Prime Minister Saad Hariri arrived in Muscat on Sunday on a two-day official visit.
He was received on his arrival at the Royal Airport by Syed Fahd Bin Mahmoud Al Syed, Deputy Prime Minister for Cabinet Affairs, a number of ministers, ambassadors of the Gulf Cooperation Council, and senior military personnel.
Hariri later on held talks with Sultan Qaboos bin Said at the Bait al-Baraka Palace in Muscat.
The meeting was attended by Minister of Information Tarek Mitri, Minister of State Michel Pharaon, the Lebanese Ambassador to the Sultanate of Oman Afif Ayoub, former MPs Ghattas Khoury and Bassem Sabeh, and adviser Hani Hammoud from the Lebanese side, and the Omani Minister of Foreign Affairs Youssef bin Alawai bin Abdullah and the Ambassador of the Sultanate of Oman to Lebanon Mohammad bin Khalil al-Jazmi.
Following the talks Hariri said both countries will be signing agreements as soon as possible
in several sectors, including agriculture, education, economy, tourism and all the issues that interest both countries .
Hariri stressed the importance of the historic relations between the two countries. He said that His Majesty Sultan Qaboos stood by Lebanon during all the difficult periods that Lebanon
Hariri told reporters that he and Sultan Qabous discussed the challenges that are facing the region in general and Lebanon in particular adding that they also discussed the Arab Peace Initiative, all the regional and bilateral issues."