Palestinian civil defense helping in taming Israeli massive fire
Palestinian president Mahmud Abbas' office said in a statement on Saturday that the Palestinian civil defense forces have joined the huge international operation to tame the massive blaze raging northern Israel.
"The three units of the Palestinian civil defense were sent to assist in extinguishing the fires in the Carmel," said a presidential statement .
The massive fire, which broke out on Thursday morning, has so far killed 42 people and is still raging out of control, prompting an urgent appeal for international help from Israeli Prime Minister Benjamin Netanyahu.
Offers of help poured in, including from the Palestinians, with Netanyahu personally calling Abbas to thank him, the statement said.
"President Mahmud Abbas on Saturday received a telephone call from Israeli Prime Minister Benjamin Netanyahu expressing his gratitude for the help of Palestinian firefighters in putting out the fires raging since the day before yesterday in the Carmel mountains," it said.
In a brief statement Wafa said 'the Palestinian president had expressed sympathy with the victims of the fire.'
Israeli reports said Palestinian Prime Minister Salam Fayyad had called the Israeli President Shimon Peres to express his condolences to the families of the victims.
Israel not prepared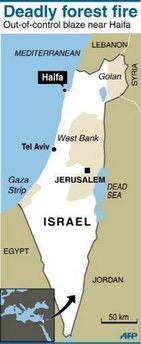 According to Israel Haaretz newspaper, Israel is not prepared for war or a mass terrorist strike that would cause many casualties in the home front. The warning of the outgoing Military Intelligence Chief, Amos Yadlin, that the next war will be a lot more difficult than past experiences, and that Tel Aviv will be a front line, was not translated into the necessary preparation by the authorities assigned the protection of the civilians.
Under such circumstances, it is best for Israel not to embark on war against Iran, which will involve thousands of missiles being fired on the home front, the paper reported
According to Israeli firemen's association, the international standards require one fireman for every 1,000 citizens, and in Israel the ratio is nearly one in 10,000. Over and over the firemen warned that they can't shoulder the responsibility they are given.