Jumblatt: 'Lebanon is not a nation. It's a bunch of tribes'
"It seems that, we cannot govern ourselves by ourselves," MP Walid Jumblatt said. "Lebanon is not a nation. It's a bunch of tribes."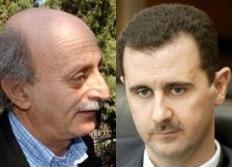 By Janine Zacharia
IN BEIRUT Syria's fresh interference in Lebanon and its increasingly sophisticated weapons shipments to Hezbollah have alarmed American officials and prompted Israel's military to consider a strike against a Syrian weapons depot that supplies the Lebanese militia group, U.S. and Israeli officials say.
The evidence of a resurgence by Syria and its deepening influence across the region has frustrated U.S. officials who sought to change Syrian behavior. But the Obama administration has so far failed through its policy of engagement to persuade the country to abandon its support for Hezbollah and sever its alliance with Iran.
"Syria's behavior has not met our hopes and expectations over the past 20 months and Syria's actions have not met its international obligations," Secretary of State Hillary Rodham Clinton told the Lebanese daily an-Nahar on Nov. 10. "Syria can still choose another path and we hope that it does."
Israel has complained to the United Nations about long-range missiles and shorter-range rockets that are flowing freely from camps inside Syria to a transit site along the Syrian border with Lebanon and on to Hezbollah. But Israel has so far hesitated to take military action out of concern that such a strike could touch off a conflict even bloodier than the 2006 war between Israel and Hezbollah, said an Israeli military official, who spoke on the condition of anonymity because of the sensitivity of the matter.
In the past, U.S. interest in Syria was mostly limited to coaxing it to make peace with Israel and to end its rule in Lebanon. But now it is increasingly clear that Syria – with its pivotal alliance with Iran and its strategic borders with Israel, Lebanon, Turkey and Iraq – has the ability to shape regional developments on a broader scale.
Unsuccessful U.S. efforts
The Obama administration's efforts at dialogue with Syria have done little to stop the flow of weapons, end Syria's practice of sheltering Palestinian leaders of militant groups, or counter Syria's interference in Lebanon, which has undermined the U.S. effort to promote Lebanese independence from external actors.
Although President Obama has named a new ambassador to Syria, his appointment is being held up on Capitol Hill by senators who say they do not want to send a new envoy to Damascus until the United States better articulates how having an ambassador there would help achieve its goals.
Without a permanent top diplomat in the Syrian capital, U.S. envoys – including Middle East peace mediator George J. Mitchell, the assistant secretary of state for Near Eastern affairs, Jeffrey D. Feltman, and Sen. John F. Kerry (D-Mass.) – have flown to Damascus to try to persuade Syrian leaders to take steps to improve relations with the United States, which hit a low point in 2005.
That year, President George W. Bush, in the wake of Saddam Hussein's ouster in Iraq, warned Syria to stop the flow of foreign fighters across its border into Iraq, prompting fears in Damascus of a U.S. effort to topple Syria's leadership. Massive anti-Syrian demonstrations in Beirut forced Syria to withdraw its troops from Lebanon. Syria's relations with regional allies soured.
Today, there are clear signs that the country has emerged stronger than before.
While the United States maintains sanctions against Syria, American allies such as India and Turkey have inked trade deals with Damascus in recent months that undercut the American effort.
Syria plays a role in Iraq. In September, a parade of Iraqi politicians flocked to Damascus seeking advice on forming a government.
And Syria's alliance with Iran remains strong, to the dismay of U.S. officials who, as the WikiLeaks cables show, had hoped to drive a wedge between Syria and Iran, in part to stop the flow of weapons to Hezbollah. But Syria's support of Hezbollah remains robust.
Flow of weapons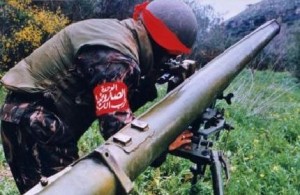 Israeli surveillance tracks the nighttime missile shipments as Syrian personnel escort them from clandestine bases in Syria to the Lebanese border. At the swap area, the weapons are transferred to Lebanese trucks and driven into southern Lebanon and to Beirut, the Israeli military official said.
Asked about the likelihood of Israel striking at the border transfer area or one of the camps inside Syria, the military official said, "This is definitely one of the options Israel has. Of course any attack like this could lead to an escalation."
Persuading Syria to break its alliance with Hezbollah's chief patron, Iran, would be a key step toward ending the shipments.
But it is in Lebanon that Syria's regional resurgence has been felt most profoundly.
Abdul Hadi Mahfouz, a Lebanese government official and writer, says Syria is more effectively managing Lebanese affairs from afar than when it had 15,000 troops inside the country.
Wiam Wahab, a pro-Syrian Druze politician and former Lebanese cabinet minister, says Washington must resolve its differences with Syria if the United States wants to stymie Iran's influence.
Many Lebanese, especially those in the Christian and Sunni communities, still oppose any Syrian role in Lebanese affairs.
Lebanon's top security positions – the head of military intelligence and director of general security – are controlled by Syrian-approved appointees. The government can't make many major decisions without first consulting with Damascus. Lebanon's top leaders, including Prime Minister Saad Hariri, toe a pro-Syrian line.
Syria's supporters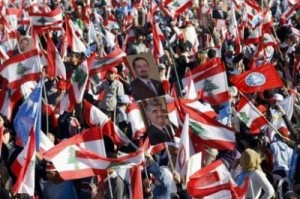 But the clearest example of Syria's restored influence may be Walid Jumblatt. Five years ago, Jumblatt, a well-known Druze politician whose party holds swing votes in Lebanon's coalition government, marched with the pro-democracy March 14 movement against Syria's occupation. He now describes that period as a momentary lapse of sanity.
"I feel much more comfortable now. I'm back to my roots," Jumblatt said last month.
Jumblatt credits Syria with reestablishing order after the Lebanese civil war and suggests that Syria's military may need to take over again if Hezbollah is indicted by an international tribunal investigating the killing of former Lebanese prime minister Rafiq al-Hariri and sectarian strife arises.
"It seems that, well, we cannot govern ourselves by ourselves," Jumblatt said. "Lebanon is not a nation. It's a bunch of tribes."