Death Toll Rises in Israeli Forest Fire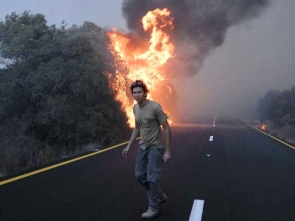 International crews have begun to arrive in Israel to help battle a deadly forest fire near the northern port city of Haifa that has forced thousands to evacuate their homes.
Officials say about 100 firefighters from Bulgaria arrived early Friday, as well as forces from Jordan and Greece. Firefighting crews and equipment from Britain, Cyprus, Egypt, Spain and Turkey are also headed to Israel to battle the blaze.
A police spokesman told reporters another body has been discovered from the fire in the Carmel forest in Israel's Galilee region, bringing the death toll to 41. Most of the dead were young prison guard cadets trapped in a bus heading to a prison to evacuate inmates, many of them Palestinians.
The spokesman says the fire has consumed more than 4,000 hectares ( 98800 acres) of land, making it the worst forest fire in Israel's history.
Prime Minister Benjamin Netanyahu will hold an emergency cabinet meeting Friday to discuss the tragedy.
Mr. Netanyahu toured the scene of the fire by helicopter late Thursday night. He said had suffered a disaster of "unprecedented proportions" on a scale "we have never seen before."
After a long, dry summer, Israel is now experiencing unseasonably hot weather and its forests are tinder-dry.
2 arrested
Israeli newspaper Haaretz has reported that Israeli Police on Friday arrested two male residents of Daliat al-Carmel on the suspicion that they had attempted to ignite fires in the Muhraka area of the Carmel hills.
An Israeli Air Force drone filmed the two men, in their 30s, as they tried to ignite flammable material. The information was passed to police and the two were arrested and brought in for questioning.
Arson is also suspected in a fire that broke out near a gas station in Kiryat Bialik on Friday afternoon. Police found evidence at a nearby factory that aroused their suspicions.
Evidence of arson was also found in Kiryat Tavon.
"We are treating these incidents severely, these were serious crimes," said Coastal District police chief Roni Atiya.