Lebanon PM: The cabinet will convene as soon I return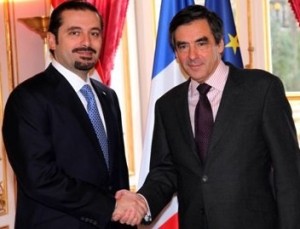 Lebanese Prime Minister Saad Hariri said on Thursday following his talks with his French counterpart that the Cabinet will convene as soon as he returns to Lebanon from his trip to France.
Hariri met in Paris with French PM Francois Fillon in the presence of the Lebanese Ambassador to France, Butros Assaker, the French Ambassador to Lebanon Denis Pietton, Hariri's chief of staff, Nader Hariri, the French Prime Minister's diplomatic adviser Charles Fries, Hariri's adviser for European Affairs Basile Yared and adviser Arnold Galois.
The talks according to Hariri covered the situation in Lebanon , Israeli threats, bilateral relations between the two countries, and ways of enhancing them in various fields, as well as the Special Tribunal for Lebanon (STL) .
In reference to the Saudi Syrian efforts to resolve the impasse over the upcoming STL indictment Hariri said: " We are committed to the Saudi-Syrian path, and this path should be given time to reach results."
Asked about accusations by the March 8 alliance that he is wasting time, Hariri responded: "I am not wasting time, but I consider that the others, who accuse me of wasting time, are the ones who should do something. They know themselves, and they haven't done what they have to do."
Yesterday Sheikh Naeem Qassem, Deputy Hezbollah's leader Sayyed Hasan Nasrallah criticized Hariri :
"Hariri has a special responsibility in this regards and knows what is required of him to put an end to accusations against Hezbollah. "Hezbollah is not asking Prime Minister Hariri to talk about this issue but to taken action with the concerned parties "
Hariri added:
"We have every intention to reach an understanding through dialogue and calm, I said it before and I repeat it again , the high tone in Lebanon does not work. He praised President Michel Suleiman's initiative and described it as "good " .
France is still supporting the tribunal, Hariri said, adding that "through French, Saudi and Syrian support, Lebanon will overcome the current impasse ."
Hariri arrived in Paris on Tuesday for an official visit and met with French President Nicolas Sarkozy that afternoon. On Thursday, he met with the French PM for lunch.
Lebanese President Michel Suleiman on Thursday continued with with his private meetings with Lebanese leaders in an effort to ease the tension in Lebanon. According to local reports Suleiman met at the Baabda palace with the following leaders today: Minister of Economy Mohammad Safadi, Tashnaq Party leader MP Hagop Pakradounian, Hezbollah parliamentary bloc leader MP Mohammad Raad , Lebanon First bloc leader, former PM and MP Fouad Siniora and Lebanese Forces leader Samir Geagea.