Hezbollah: Saudi-Syrian agreement almost complete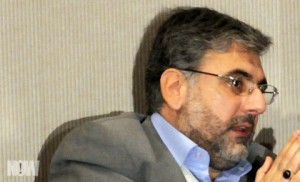 Hezbollah MP Nawwaf Moussawi told New TV on Friday that 90 percent of the articles of the Syrian-Saudi agreement over the Special Tribunal for Lebanon ( STL) indictment issues are complete, but added that no one is ready to discuss its content yet.
Moussawi also said the only people that know the content of the agreement are Saudi King Abdullah bin Abdel Aziz, Syrian President Bashar al-Assad, Prime Minister Saad Hariri, Speaker Nabih Berri and Hezbollah Secretary General Sayyed Hassan Nasrallah.
Progressive Socialist Party leader MP Walid Jumblatt is following up on the matter, Moussawi also said, adding that Free Patriotic Movement leader MP Michel Aoun and Marada Movement leader MP Suleiman Franjieh are being updated on the latest developments.
"There is a chance to protect Lebanon from the scheme being planned by the US and Israel. This chance is represented by the Syrian-Saudi attempt to resolve the crisis ."
The Saudi king's illness delayed finalizing the settlement, Moussawi also said.
Following their Syria visit, Nasrallah's political adviser, Hajj Hussein Khalil, Amal MP Ali Hassan Khalil said the chances of achieving a solution are very high, the MP added.
MTV reported yesterday that STL prosecutor Daniel Bellemare will be heading to Canada on Dec 20 for Christmas , New Year vacation and will return to Netherlands on January 5, 2011. This means according to MTV that the indictment will either be issued before Dec. 20 or after January 5.
Last week MTV reported that the indictment will be issued on Dec 2, based on reports by Lebanese embassy in the Netherlands.
Tension escalated in Lebanon following reports that the Special Tribunal for Lebanon will soon issue its indictment into the 2005 assassination of Lebanon's former Prime Minister Rafik Hariri. Last July, the Hezbollah chief Sayyed Hassan Nasrallah said that the tribunal is "an Israeli project" that will indict Hezbollah members. Nasrallah accused Israel of being behind Hariri's assassination but refused to provide the evidence to STL to support his claim. Hezbollah and its March 8 allies have been calling for the abolition of STL.
Some leaders are concerned that should the court indict Hezbollah members, it could lead to a Shiite-Sunni strife.
The Pro Syrian Al Akhbar newspaper reported earlier in the month that Hezbollah has prepared a plan to take over Lebanon when STL issues its indictment for the 2005 murder of the late Prime Minister Rafik Hariri.
Free Patriotic Movement leader MP Michel Aoun , (a close ally of Hezbollah ) said on November 18 that Hezbollah might violently respond to an STL indictment that accuses Hezbollah party's members in Hariri's assassination.
Aoun on Tuesday called for a compromise before STL issues its indictment .
" We hope that a compromise will happen, since no one wants a clash. But is there a wish for compromise ? If this wish is found, then is there ability , especially since there is an international game and it appears that they cannot separate themselves from it".
Now Lebanon, MTV