Lebanese police arrests Bakri in Tripoli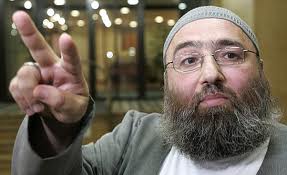 Lebanese police officials say they have arrested a radical Muslim cleric Omar Bakri Mohammed who was sentenced in absentia last week to life in prison.
"He was arrested by a patrol of intelligence agents from the Internal Security Force in his home in Tripoli," a security official told AFP, adding that Bakri is "currently being transferred to Beirut."
Lebanese officials said Bakri was among 54 people sentenced Friday as part of ongoing trials of militants who fought the Lebanese army in 2007. Bakri was convicted of membership of an armed group aiming to commit terrorist acts and plotting to kill Lebanese soldiers, incitement to murder, theft and the possession of arms and explosives.
It was not immediately clear why authorities did not arrest Bakri earlier. He appears regularly on television and does not live in hiding.
His arrest comes one day after asking for the help of Hezbollah Secretary General Sayyed Hassan Nasrallah in escaping justice.
According to observers the cleric may have been impressed with the way the Iranian backed militant group has helped others escape justice . Hezbollah bodyguards invaded the Beirut airport last September in order to receive former General Security chief Jamil as-Sayyed who is wanted by the Lebanese judiciary. Sayyed was taken to the VIP launch of Beirut's Rafik Hariri International Airport without the needed permission from the ministry of Foreign affairs and was later taken home under heavy security.
Bakri, a radical Sunni who has praised the September 11, 2001 attacks describing the hijackers as the "magnificent 19″, was sentenced to life in prison by a Lebanese military court on Thursday.
The day after the sentence was handed down he vowed he would "not spend one day in prison."
Bakri lived in the UK for nearly 20 years after seeking political asylum in 1986 and being granted indefinite leave to remain. He ran the radical Islamist group, al-Muhajiroun, from north London until it was disbanded in 2004.