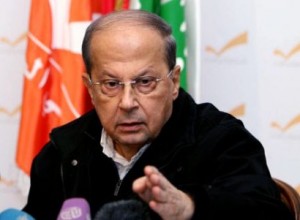 The High Council of the Free Patriotic Movement (FPM) in Montreal, Canada on Sunday attacked FPM leader Michel Aoun's "desperate attempt to whitewash the record of the party of the guardianship of jurisprudence," in a reference to Aoun's political ally Hezbollah and its believe in the 'Wilayat al Faqih' system of government .
In a statement issued after its meeting, the council also criticized Aoun's campaign against alleged corruption in Lebanese state expenditure.
In 2006 former Prime Minister Fouad Siniora submitted a bill to parliament that would contract global financial companies to audit state accounts since 1989, and if Aoun is serious about settling past years' expenditure, he will revive this bill, the statement said.
Aoun is unlikely to do so because such an investigation would cover the period of his disputed presidency, the statement added.
FPM officials have harshly criticized the Finance Ministry, called for an investigation of state accounts, and asked that former finance ministers be summoned to testify before a parliamentary committee about alleged misappropriation of funds. Now Lebanon