Siniora wanted to end the resisitance, says Hezbollah MP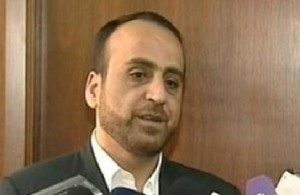 Hezbollah MP Nawwaf Moussawi said on Friday that former Prime Minister Fouad Siniora aimed at "terminating the Resistance in exchange for ending Israeli aggression during the 2006 July War ."
"Siniora wanted to put an end to the Resistance," Moussawi told Al-Manar television.
Siniora said Friday that Hezbollah Secretary General Sayyed Hassan Nasrallah's Thursday statements during his speech last night were inaccurate.
Nasrallah accused Siniora's cabinet last night of trying to prolong the 2006 July War.
"The Lebanese people and all Arab and foreign officials knew that the government's primary goal was to end the war and lift the blockade, but Israel and the U.S. opposed it", said a statement issued by Siniora's press office.
To read more: http://www.nowlebanon.com/NewsArticleDetails.aspx?ID=216013#ixzz156HbbjHe
Only 25% of a given NOW Lebanon article can be republished. For information on republishing rights from NOW Lebanon: http://www.nowlebanon.com/Sub.aspx?ID=125478