Geagea tells Hezbollah to take it easy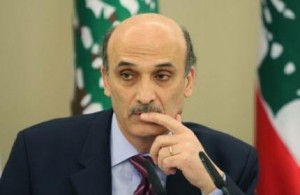 Commenting on the speech last night by Hezbollah chief Sayyed Hassan Nasrallah , Lebanese Forces leader Samir Geagea said on Friday that Hezbollah should be contributing to a calm Lebanon, according to a statement issued by his office.
"If Hezbollah claims that there is a conspiracy against it, the party should foster calm to avoid it," Geagea said.
He also said that Hezbollah Secretary General Sayyed Hassan Nasrallah's Thursday speech "contained several contradictions."
Taef accord
On Nasrallah's remarks that France suggested dividing Lebanese shares between Christians, Sunnis and Shia instead of equal Christian-Muslim shares, Geagea said, "We will ask Paris for clarifications regarding this suggestion."
Nasrallah said that "the French talked with the Iranians about the importance of reevaluating the Taef Accord, suggesting the idea of tripartite power-sharing in Lebanon."
France on Friday denied that its foreign minister Bernard Kouchner had raised the issue of amending the Taef Accord with the Lebanese officials he met during his latest visit to Beirut.
French foreign ministry spokesman Bernard Valero noted that "the aim of Kouchner's visit to Lebanon was to reiterate France's support for the Lebanese state institutions and the national unity government headed by PM Saad Hariri."
Geagea called on Nasrallah to "deal with Lebanese matters through dialogue with the country's officials instead of addressing issues publicly, in order to avoid negative reactions."
Kissinger's letter
Geagea also said that Nasrallah's remark about a letter from Kissinger was inaccurate
On Thursday, Nasrallah said there was a letter from General Raymond Edde to former US Secretary of State Henry Kissinger accusing him of destroying Lebanon. According to Nasrallah Kissinger replied , by admitting that the 1975 Lebanese civil war was American-made and a ploy to split the country up.
March 14 M Ahmad Fatfat told the Voice of Lebanon (VOL) that the letter which Nasrallah spoke about from former US Secretary of State Henry Kissinger to late General Raymond Edde was a journalist's analysis.