Hariri tells Nahas: You will pay dearly for you comments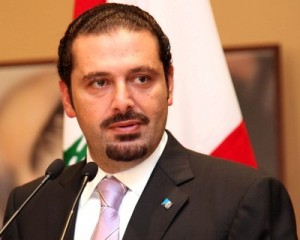 Prime Minister Saad Hariri and Free Patriotic Movement Telecoms Minister Charbel Nahas, fought it out last night during the cabinet meeting at the Baabda palace according to local reports.
The cabinet met to discuss the issue of the false witnesses. The March 8 opposition called for a vote on this issue while the March 14 rejected the proposal.
Nahas accused the March 14 majority of succumbing to Washington and Israel, but Hariri replied: "These statements are not acceptable. Israel puts pressure on you and people like you, but not on us."
"I won't accept what you (Opposition) impose on me no matter the outcome," Hariri added
According to the pro-Syrian Al-Akhbar newspaper , Hariri pointed his finger at Nahas at the end of Cabinet meeting, telling him: "You are going to pay dearly for your comments."
Nahas reportedly responded by saying: "Such words are not supposed to come out from a distinguished person like you."
Al-Manar also reported that Hariri said during the cabinet session that if March 8 insists on a vote on the false witnesses issue, there will be a vote on other issues.
"If you want to discuss this issue at a political level, then let us start from the beginning, starting with Ahmed Abu Adas all the way to those who accused other countries," he told March 8 ministers
"All this talk will only lead to further fragmentation and chaos, " Hariri stressed.
Rahal criticizes Nahas
Nahhas's insinuation during Wednesday's cabinet session that Israel is pressuring Prime Minister Saad Hariri is the "the height of political decadence," Environment Minister Mohammad Rahal said Thursday.
"Enough is enough; talking this way is impermissible within the cabinet," Rahal told Akhbar al-Yawm news agency.
Rahal added that during the cabinet session, Hariri made it clear that he personally does not need the premiership, that he had not asked for the post, and that "the cabinet should be honored to have him as its premier."
False witnesses
March 8 politicians have called for the cabinet to ask the Judicial Council to investigate the issue of witnesses who gave unreliable testimonies to the investigators of former Prime Minister Rafik Hariri's 2005 assassination. However, March 14 leaders have said that the regular judiciary should handle the matter.
STL indictment
Tension escalated in Lebanon following reports that the Special Tribunal for Lebanon will soon issue its indictment into the 2005 assassination of Lebanon's former Prime Minister Rafik Hariri. Last July, Hezbollah Secretary General Sayyed Hassan Nasrallah said that the tribunal is "an Israeli project" that will indict Hezbollah members. Nasrallah accused Israel of being behind Hariri's assassination but refused to provide the evidence to STL to support his claim. Hezbollah and its March 8 allies have been calling for the abolition of STL.
Some leaders are concerned that should the court indict Hezbollah members, it could lead to a Shiite-Sunni strife, others aren't worried and see this as a desperate intimidation campaign by Hezbollah against truth and justice that will only lead to more damages to its image in both Lebanon and the entire region.
Al Akhbar newspaper reported last week that Hezbollah has prepared a plan to take over Lebanon when STL issues its indictment for the 2005 murder of former Prime Minister Rafik Hariri.