Qatar worried about Lebanon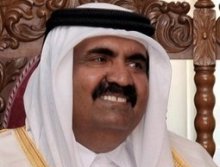 An-Nahar newspaper on Thursday quoted unnamed diplomats as saying that the ruler of Qatar Sheikh Hamad bin Khalifa al-Thani is worried about the current Lebanese situation and has information that the country might be dragged into strife.
"Sheikh Hamad is following up Lebanese developments closely, and is concerned about possible negative repercussions if the Special Tribunal for Lebanon (STL) indicts Hezbollah members," the diplomats told the daily.
According to analysts that are familiar with the politics of Sheikh Hamad, his comments are part of a scare-mongering campaign directed at all those who support the Special Tribunal for Lebanon.
Tension escalated in Lebanon following reports that the Special Tribunal for Lebanon will soon issue its indictment into the 2005 assassination of Lebanon's former Prime Minister Rafik Hariri. Last July, Hezbollah Secretary General Sayyed Hassan Nasrallah said that the tribunal is "an Israeli project" that will indict Hezbollah members. Nasrallah accused Israel of being behind Hariri's assassination but refused to provide the evidence to STL to support his claim. Hezbollah and its March 8 allies have been calling for the abolition of STL.
Some leaders are concerned that should the court indict Hezbollah members, it could lead to a Shiite-Sunni strife, others aren't worried and see this as a desperate intimidation by Hezbollah against truth and justice that will only lead to more damages to its image in both Lebanon and the entire region.
Al Akhbar newspaper reported last week that Hezbollah has prepared a plan to take over Lebanon when STL issues its indictment for the 2005 murder of former Prime Minister Rafik Hariri.