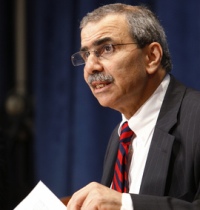 Nawwaf Salam , Lebanon's Ambassador to the United Nations told the UN Security Council Friday that the Lebanese officials are committed to international legitimacy.
Salam thanked UN Under-Secretary General for Legal Affairs Patricia O'Brian and the members of the council for their continuous support of Lebanon and their concern for its stability, according to National News Agency (NNA).
UN Security Council met to discuss the Special Tribunal for Lebanon (STL) but no statement was issued at the end of the meeting , according to New TV.
Tension escalated in Lebanon following reports that the Special Tribunal for Lebanon will soon issue its indictment into the 2005 assassination of Lebanon's former Prime Minister Rafik Hariri. Last July, Hezbollah Secretary General Sayyed Hassan Nasrallah said that the tribunal is "an Israeli project" that will indict Hezbollah members. Nasrallah accused Israel of being behind Hariri's assassination but refused to provide the evidence to STL to support his claim. Hezbollah and its March 8 allies have been calling for the abolition of STL.
Some leaders are concerned that should the court indict Hezbollah members, it could lead to a Shiite-Sunni strife.
Al Akhbar newspaper reported earlier in the week that Hezbollah has prepared a plan to take over Lebanon when STL issues its indictment for the 2005 murder of former Prime Minister Rafik Hariri.