Kouchner coming to Lebanon to defuse tension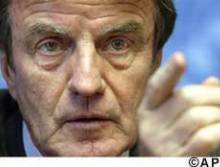 France's Foreign Minister Bernard Kouchner visits Lebanon Friday amid the country's worst political crisis for more than two years, as the United Nations probe into the murder of former Prime Minister Rafik Hariri announced indictments were nearing.
A government official confirmed the news of Kouchner's trip Thursday.
"Bernard Kouchner is coming to Lebanon to discuss the latest developments linked to the crisis over the Special Tribunal for Lebanon (STL),"the official told AFP, speaking anonymously.
Following Hezbollah's call to boycott the UN probe, Prime Minister Saad Hariri visited London earlier this week for his first official visit to the UK. During the trip, he received personal backing from both British Prime Minister David Cameron and Foreign Minister William Hague; both also threw their administration's support behind the beleaguered court.
Kouchner will arrive in Beirut late Friday and is set to meet with Parliament Speaker Nabih Berri, President Michel Suleiman, as well as hold talks with Hariri.
France has been a staunch backer of the UN court, which was established in the wake of a 2005 car bomb attack in Beirut that killed Hariri and 22 others, mainly members of his entourage.
Speaking to journalists at The Hague, STL President Antonio Cassese said he expected the court to begin issuing indictments in the near future – a move likely to further inflame Lebanon's security situation, already on red alert due to debate surrounding the court.
Cassese nevertheless sought to dampen talk of civil strife if his courts suspected warrants against Hizbullah members materialize.
"The indictment as such should not trigger a civil war in Lebanon," he told the court's International Media Forum. "It would be a huge mistake. That's why we have trials – to verify whether the prosecutor is right or wrong. We are strongly against justice at the cost of peace."
Cassese's remarks came the same day as dire warnings of the consequences of indicting Hezbollah members, issued from the party's number two, Naim Qassem.
"We have nothing to say regarding what we might do if the indictment accuses members of Hezbollah," Qassem told BBC Arabic in an interview.
"The options are many and it depends on the circumstances at that time," he added. "What we do know is that such an indictment is a warning bell equivalent to lighting the fuse, to igniting the wick for an explosion, and is dangerous for Lebanon."
The STL received an additional $10 million in funding from the United States administration on Wednesday, after doubts were raised as to the ability of the Lebanese Government to foot its side of the bill.