Aoun didn't gain any points by boycotting dialogue talks, report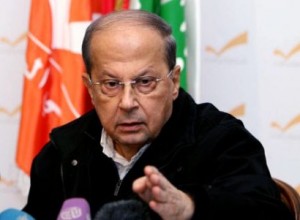 According to an Nahar diplomatic sources the absence of Change and Reform leader MP Michel Aoun and his ( Hezbollah-led) allies from the national dialogue talks on Thursday did not gain him any points against Prime Minister Saad al-Hariri nor against the opponents of the issue of the " false witnesses " . The sources described the move as 'very negative' in this delicate and sensitive situation and will add fuel to the tension in Lebanon.
The sources,added that any mistake can lead to shaking not only the political stability but also the security in the country .
The sources also said that the boycott by Aoun gave a distorted image of the political consensus and will raise doubts within the International community which will be reflected in the UN reports on resolutions 1701 and 1559
Yesterday PM Hariri told reporters upon arrival at the Baabda palace "those who failed to show up today for the dialogue talks are losers." As he was leaving Baabda Palace,he told reporters that he regretted the absence of party leaders "from the talks that were set to discuss the defense strategy and Israeli threats."
Lebanon Files