Lebanon probes attack against STL investigators
Lebanon has told the United Nations it has set up an inquiry into last week's attack on UN's Special Tribunal for Lebanon (STL) investigators probing the killing of former Lebanese Prime Minister Rafik al-Hariri, diplomats said on Friday.
Two officials from the U.N.-backed tribunal investigating the 2005 assassination were forced by a crowd of women on October 27 to leave a doctor's clinic in southern Beirut, where they had made an appointment to review files.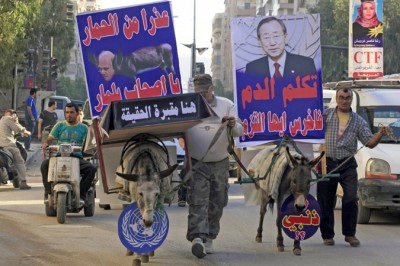 Southern Beirut is a bastion of the Hezbollah militant group, which opposes the investigation, fearing its own members will be indicted — something diplomats say is likely.
U.N. legal counsel Patricia O'Brien briefed the 15-nation Security Council, on which Lebanon currently holds a seat, on the incident during closed-door consultations on Friday.
Lebanese Ambassador Nawaf Salam later told journalists that at the meeting "it was my pleasure to inform the Security Council that the judicial authorities in Lebanon have initiated an investigation into the incident of October 27."
Lebanon was "committed to the rule of law on its own territory," Salam said.
Hezbollah chief Sayyed Hassan Nasrallah has said investigators from the Netherlands-based court are passing information to Israel and has called on Prime Minister Saad al-Hariri, Rafik's son, to repudiate the tribunal.
Nasrallah said last week it was scandalous that investigators had sought the medical files of women at the clinic. The office of the court's prosecutor said the visit had been approved by Lebanese authorities and was not aimed at seeking medical information from the doctor.
Security Council president Ambassador Mark Lyall Grant of Britain told reporters Hariri had told U.N. Secretary-General Ban Ki-moon in an October 29 phone call his country was committed "to safeguarding the integrity of the investigation."
The killing of the elder Hariri and 22 other people in a suicide truck bombing in Beirut sparked an international outcry against Syria, forcing it to end a three-decade military presence in Lebanon.
At Lebanon's request, the Security Council approved setting up the tribunal in 2007, but it has yet to indict anyone over the killing, in which Syria and Hezbollah have denied any involvement.
The Syrian- and Iranian-backed Hezbollah is represented in the Lebanese government and there are fears that indictments by the tribunal — a development expected early next year — could spark fresh turmoil in Lebanon. Reuters