French FM reiterates France's suppport for Lebanon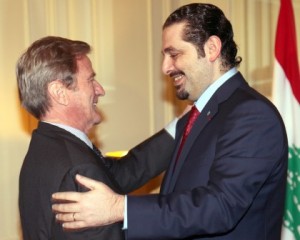 French Foreign Minister Bernard Kouchner voiced France's support for Lebanon during his meeting with Lebanese officials.
Kouchner arrived in Lebanon on Friday for a two-day official visit and met with President Michel Suleiman on Friday.
According to a statement issued by Suleiman's press office, Kouchner and Suleiman discussed recent developments and bilateral relations as well as means to improve them.
Following his meeting with Suleiman he met in the evening with Prime Minister Saad Hariri and discussed recent developments and bilateral relations.
According to a statement issued by the PM's press office on Friday, Hariri held a dinner in honor of Kouchner. The statement added that French Ambassador to Lebanon Denis Pietton as well as Hariri's advisors Mohammad Chatah and Hani Hammoud were present.
On Saturday morning Kouchner headed to Bkirki to hold talks with Maronite Patriarch Nasrallah Sfeir, according to local reports
Tension escalated in Lebanon following reports that the Special Tribunal for Lebanon will soon issue its indictment into the 2005 assassination of Lebanon's former Prime Minister Rafik Hariri. Last July, Hezbollah Secretary General Sayyed Hassan Nasrallah said that the tribunal is "an Israeli project" that will indict Hezbollah members. Nasrallah accused Israel of being behind Hariri's assassination but refused to provide the evidence to STL to support his claim. Hezbollah and its March 8 allies have been calling for the abolition of STL.
Some leaders are concerned that should the court indict Hezbollah members, it could lead to a Shiite-Sunni strife.
Al Akhbar newspaper reported earlier in the week that Hezbollah has prepared a plan to take over Lebanon when STL issues its indictment for the 2005 murder of former Prime Minister Rafik Hariri.