al-Qaida threatens Christians in Iraq with 'destruction'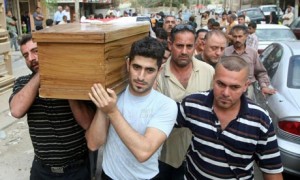 Al-Qaida in Iraq has threatened more attacks on Iraq's Christians, claiming that they are legitimate targets who now face the "doors of destruction".
The warning, published today on militant websites, came three days after gunmen from an al-Qaida front group, the Islamic State of Iraq, raided one of Baghdad's main cathedrals during Sunday mass. More than 50 people were killed and dozens were wounded when Iraqi forces stormed the church in an attempt to lift the four-hour siege.
In its statement, ISI described the pope as "the hallucinating tyrant of the Vatican" and warned that Christians would be "extirpated and dispersed" from Iraq. "All Christian centres, organisations and institutions, leaders and followers, are legitimate targets for the muhajideen wherever they can reach them," the statement said. "We will open upon them the doors of destruction and rivers of blood."
Iraq's Christians were not specifically persecuted under Saddam Hussein, but hundreds of thousands are believed to have fled the country amid the sectarian violence unleashed by the 2003 invasion. The attack on the Our Lady of Salvation church, and a series of bombings across Baghdad yesterday , have stoked fears that al-Qaida, thought to be almost a spent force in Iraq, has regrouped to seriously jeopardise the country's brittle security.
Tuesday's bombings targeted mainly Shia neighbourhoods, many of which remained in lockdown today as leaders tried to quell sectarian tensions.
The city remained subdued as security chiefs scrambled to assess how at least 20 car bombs had been driven all over town and left to detonate outside their targets. At least 64 people were killed.
"We have not seen this sort of momentum since 2004," said a general responsible for the interior ministry's intelligence division. "They are pure al-Qaida again. They are not a collection of criminals, Ba'athists and anyone else who cloaks their real ambitions in ideology."
The general said many of the current al-Qaida leaders had been freed from the now defunct US military prison system. "This was a college for them, they appointed leaders and passed on expertise."
The claim that fresh violence is being sparked by veterans of the insurgency's darkest days has been raised by numerous Iraqi police and military officers, but downplayed by US officials, who say they have not seen such evidence. In 2008 US commanders claimed al-Qaida was "strategically defeated in Iraq". But as the US military disengages, the Iraqi forces they leave behind acknowledge that they are finding an active and largely Sunni-led insurgency difficult to contain.
The scale of the church massacre and Tuesday's bombing blitz has horrified security chiefs who have claimed credit throughout the year for the capture of senior militants across the country.
"It is true that al-Qaida are strong again," said General Diyaa Hussein Sahi, the head of Baghdad police's major crime unit. "It is also true that many of them have been freed from the prisons. They are dangerous people and we are doing our best to find them."
Since the summer the vast majority of attacks in Iraq had been targeted assassinations of key officials using magnet bombs or silenced pistols. However this week's large-scale violence — with a distinct sectarian theme — appears to point to a new campaign and confidence among insurgency leaders.
Photo: Iraqi Christians carry the coffin of a relative who was killed along with 45 other Christians last night at the Our Lady of Salvation church in central Baghdad. Photograph: Ahmad Al-Rubaye/AFP/Getty Images