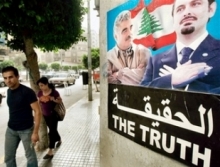 Washington will contribute another $10 million to a U.N.-backed probe into the slaying of a former Lebanese prime minister, a U.S. diplomat said Wednesday.
Susan Rice, the U.S. ambassador to the United Nations, announced Wednesday the additional contribution brought the total level of aid for the Special Tribunal for Lebanon (STL) to $30 million since its inception in 2007.
The tribunal is investigating the 2005 assassination of former Lebanese Prime Minister Rafik Hariri in Beirut. Lebanon is bracing for possible retaliations from Hezbollah should the STL single out the group for its alleged role in the plot.
Hezbollah said it has evidence to suggest Israel played a role in the slaying.
The group reacted with outrage after STL investigators interviewed officials at a women's clinic in Beirut last week, saying the probe was operating outside its U.N.-sanctioned mandate.
Rice in a video message said she applauded the "brave and tireless" work of the STL investigation, which she described as "apolitical."
Hezbollah said it believes Washington is pressuring the tribunal to release its verdict as early as December.
Rice said she had "full confidence" in the ability of the STL to carry out its probe, noting that Lebanon's "sovereignty is non-negotiable." UPI
This error message is only visible to WordPress admins
Error: No connected account.
Please go to the Instagram Feed settings page to connect an account.