UN calls on regional powers to leave Lebanon alone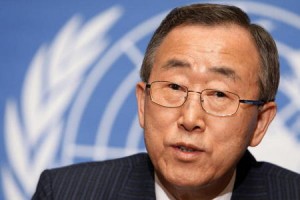 Lebanon has been hit by a new climate of "uncertainty" which could cause new instability across the region, UN Secretary General Ban Ki-moon warned on Monday.
In a report released only days after a controversial visit to Lebanon by Iran's President Mahmoud Ahmadinejad, the UN chief called on regional powers to stay out of the country's affairs and also said Israel must halt military overflights.
"I am very concerned by rising political tensions in the country," Ban said, referring to a growing war of words between Prime Minister Saad Hariri's coalition and the Iranian-backed Hezbollah group.
Advertisement: Story continues below
"The combination of mistrust between the parties and the continued presence of militias could lead to tensions and possible insecurity and instability in Lebanon and beyond.
"The country should not be used as a staging ground to further regional aspirations or to promote conflict," he said in a report on Lebanon to the UN Security Council.
Ban has repeatedly expressed concern over the tense political situation in Lebanon and its delicate relations with neighbouring Syria. He has also made repeated calls for Hezbollah to follow the example of other militias and disarm.
The report said Hezbollah's arsenal "remains distinct from and may exceed the capabilities of the Lebanese Armed Forces."
Ban said Hezbollah's military strength "creates an atmosphere of intimidation and poses a key challenge to the safety of Lebanese civilians and to the government's monopoly on the legitimate use of force".
The UN chief also highlighted Palestinian armed groups operating in Lebanon. He said all the militias remain "a challenge" to the Lebanese state.
Israel has kept control of part of the south Lebanon village of Ghajar since an Israeli military campaign in 2006, but Ban said Israel should withdraw and end its regular military flights over south Lebanon. smh