Gemayel: Too early to discuss false witnesses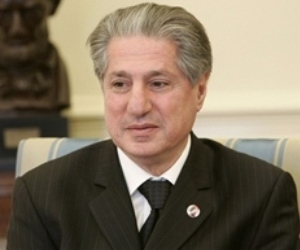 Former Lebanese president , Phalange party leader Amin Gemayel told MTV on Sunday that nothing can be discussed about the false witnesses before the Special Tribunal for Lebanon (STL) issues its indictment.
The false witnesses issue is "made out of hot air " since "even today we do not know who is a false witness," he added.
Gemayel also said that nothing can be discussed at the Judicial Council about the issue since all the relevant information is in STL files in the Hague. Many March 8 leaders are calling for the transfer of the issue of false witness to the Judicial Council for prosecuting the witnesses that reportedly misled the investigation into the assassination of Lebanon's former PM Rafik Hariri
The cabinet is expected to discuss the issue of false witnesses during its Wednesday session.
Justice Minister Ibrahim Najjar submitted his report on false witnesses during the cabinet meeting last Tuesday and stressed that his report is "legal and not political and that its content contains answers to the questions raised during the August 18 session,"
Tension escalated in Lebanon following reports that the Special Tribunal for Lebanon will soon issue its indictment into the 2005 assassination of Lebanon's former Prime Minister Rafik Hariri. Last July, Hezbollah Secretary General Sayyed Hassan Nasrallah said that the tribunal is "an Israeli project" that will indict Hezbollah members. Nasrallah accused Israel of being behind Hariri's assassination but refused to provide the evidence to STL to support his claim. Hezbollah and its march 8 allies have been calling for the abolition of STL
There are concerns that should the court indict Hezbollah members, it could lead to a Shiite-Sunni strife.
Tensions are high in Lebanon after reports that the STL could soon issue its indictment in the 2005 assassination of former Prime Minister Rafik Hariri, and March 8 politicians have called for the tribunal's abolition while arguing that it has been politicized and misled by false testimonies.
added.