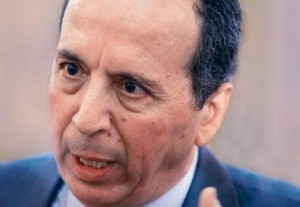 New TV on Monday reported that former General Security chief Jamil as-Sayyed was insulting, rude, vulgar against the station's interviewer on Sunday and almost kicked the station's camera crew out of his house.
According to the station, when New TV interviewer George Salibi posed a question to Sayyed about his bank accounts and properties during a Sunday interview, the former security chief grew angry and, off the air, used "profanity against the interviewer that the station hesitates to reveal due to its foulness."
New TV, which is well known for its pro-Syrian bias reminded Sayyed that the station "opened its doors to him and carried his case continually since his release from jail, and in return, he did not respect the principles of hospitality after insisting that the show be broadcast from his house for security reasons."
Sayyed "almost kicked the team out of his house," the station said, adding that "this was the first interview with Sayyed on New TV , and it will be the last."
Sayyed along with 3 other generals was detained from 2005 to 2009 on suspicion of involvement in former PM Rafik Hariri's murder. In April 2009, the Special Tribunal for Lebanon (STL ) ordered their release without charges due to insufficient evidence. STL prosecutor made it clear at the time they were set free that their release did not mean they are Innocent and that once more evidence is available they could be back in jail.
In December 2009, he filed a lawsuit in Damascus against various defendants whom he alleges were involved in a conspiracy of false testimonies against him.
Tension between March 14 alliance and the Iranian backed Hezbollah ran high after armed Hezbollah bodyguards invaded Beirut's Rafik Hariri International Airport to receive Sayyed (who is wanted by the Lebanese judiciary ) at the VIP launch without the needed permission from the ministry of Foreign affairs .