Hariri-Nasrallah meeting could take place anytime soon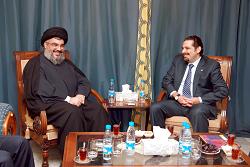 NBN TV reported that Prime Minister Saad Hariri will meet this evening with Hajj Hussein Khalil, Hezbollah Secretary-General's Political Assistant.
This comes after As Safir quoted yesterday Labor and Public Works Ghazi Aridi that the Prime Minister and Hezbollah Secretary General Sayyed Hassan Nasrallah will be meeting"within the upcoming hours".
According to As Safir Khalil may be the one trying to arrange the meeting with Nasrallah who has been hiding ever since the 2006 war started .
As Safir also reported that Progressive Socialist Party leader MP Walid Jumblatt brought up the issue of a Hariri-Nasrallah meeting during his talks with Nasrallah last Sunday.
Tension escalated in Lebanon following reports that the Special Tribunal for Lebanon will soon issue its indictment into the 2005 assassination of Lebanon's former Prime Minister Rafik Hariri. Last July, Hezbollah Secretary General Sayyed Hassan Nasrallah said that the tribunal is "an Israeli project" that will indict Hezbollah members. Nasrallah accused Israel of being behind Hariri's assassination but refused to provide the evidence to STL to support his claim. Hezbollah and its march 8 allies have been calling for the abolition of STL
There are concerns that should the court indict Hezbollah members, it could lead to a Shiite-Sunni strife.