Ahmadinejad: The Zionists will cease to exist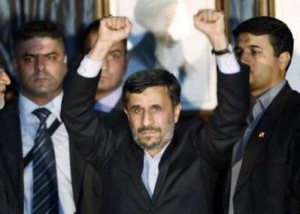 Iranian President Mahmoud Ahmadinejad and the Iranian First Lady Azam Al Sadat Farahi arrived at the Bint Jbeil stadium to take part in a mass rally held by Hezbollah and the Amal movement on Thursday, National News Agency (NNA) reported.
Hezbollah parliamentary bloc leader MP Mohammed Raad welcomed Ahmadinejad upon his arrival and thanked him for his support. Raad told the crowds: "The Zionist legend was defeated in this region."
Addressing the participants at the rally Ahmadinejad said you have proved that your jihad is stronger than tanks.
"There's no doubt that your enemies fear your unity. Unity is the symbol of endurance, steadfastness and victory. We thank God that all the Lebanese had shown a spirit of unity and patience, which allowed them to emerge victorious." He said
He added: "Rest assured that Palestine will be liberated from the Israeli occupation, thanks to the strength and faith of the Resistance."
He stressed: "Bint Jbeil is the fortress of the Resistance and victory.
Ahmadinejad added: Today, the occupying Zionists have no choice but to return to their original homelands , adding: I declare here that Bint Jbeil is alive and well and shall remain, and let the world know that the Zionists will cease to exist.