MP Saqr: False witnesses issue fabricated to destroy us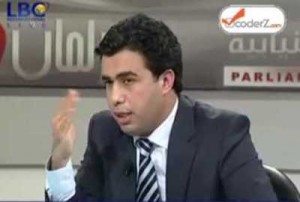 Lebanon First MP Oqab Saqr on Monday accused the Opposition of fabricating false witnesses to "destroy us."
Saqr warned he has "more files that condemn others but we won't disclose them now."
"We don't want to accuse anyone. We just want to elevate the charge against us," he told a lengthy news conference at March 14 forces headquarters in Ashrafiyeh.
"We don't want anybody fabricating charges against us," he added.
Regarding false witnesses, Saqr asked: "Why weren't the fingerprints taken off of Abu Adas' tape by (Maj. Gen.) Jamil Sayyed?"
He said that March 14 considers Ahmed Abu Adas as the prime counterfeiter until proven otherwise.
Abu Adas is the militant who made a dubious taped confession about his involvement in the Hariri murder.
"There was a paper along with Abu Adas' tape labeling him as a suicide bomber and Bulldozers were requested to remove all the vehicles from the crime scene had Minister Franjieh   not intervened. Why was this negligence?
" As for the six pilgrims, Saqr said that "we have two INTERPOL reports confirming that the Australian federal police no longer considers them suspects.
" The cell of 13 confessed to the crime, then backed down.
He also touched on false witness Louai al-Saqqa who disappeared.
Saqr said Saqqa accused Turkey. "March 8 websites spoke of him and then stopped."
"Husam Husam, another false witness, claimed that all the countries of the world were eager to host him", Saqr said.
He said Saqqa claimed he talked to American men, but Husam Husam said he spoke with two men who spoke English.
"It is weird that Husam Husam emerged after Saqqa's disappearance when both are fabricated.
"How did Fares Khashan meet Zuheir Siddiq? Siddiq had asked to meet Khashan but his request was rejected. He asked to take a picture with Hariri but they rejected. His play was uncovered.
Saqr said Husam Husam was said to have left Lebanon Nov. 27, 2005 but appeared on Al-Jadeed TV five days before leaving to say the Government gave him $1,200.
"Is it possible for someone to testify and run away four days later?
On false witness Jarjoura, Saqr said he was detained for three years although he gave his testimony and backed down.
Saqr said an arrest warrant was issued against Jarjoura June 3, 2006 and was jailed for 3 years and released.
"We have given a summary of why the (Syrian) arrest warrants are not legal, and our response proves why we call them the "so-called false witnesses" because we have enough evidence to acquit ourselves," Saqr stressed. Naharnet