Lebanon beats Guinness World Records for largest flag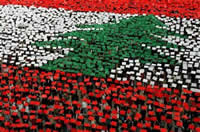 First it was the Hummus, then the Falafel and now the largest flag ever
Lebanon on Sunday released a photo taken from the air of a flag covering an area of 65,000 square meters.
Morocco is the current holder of the Guinness world record for the largest flag, at 60,000 square meters, a Lebanese military spokesperson said.
Lebanon's bid for the title has been displayed at Rayak air base in the east of the country, in the presence of a representative of the Guinness World Records book.
The country's green cedar emblem in the flag's center alone covers an area of 10,452 square meters, or one square meter for each square km of lebanon's area