Najjar: Decision on false witnesses awaits STL indictment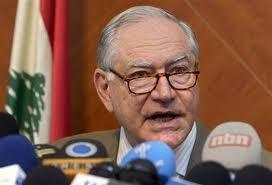 Lebanon Justice Minister Ibrahim Najjar said in his report on false witnesses in the assassination of former Prime Minister Rafik Hariri that the issue falls within the jurisdiction of the Lebanese judiciary but that the decision awaits a review of of the International Tribunal indictment.
The report,which was distributed to members of the Cabinet on Saturday, included answers to many questions.
In his Saturday speech Hezbollah chief Sayyed Hassan Nasrallah accused the Special Tribunal for Lebanon of protecting false witnesses.
On August 18, the cabinet delegated Najjar to prepare a report on false testimonies in the international investigation into the 2005 murder of former PM Hariri. Najjar is expected to present the report to the cabinet during its Tuesday session.
The Report sets out principles that have been taken into account, namely:
– Separation of powers, particularly between the executive and the judiciary powers.
– The principle of independence of the judiciary as stated in the Constitution.
– Respect for international agreements (especially the agreement between Lebanon and the United Nations on the formation of a special tribunal for Lebanon).
– The principle of confidentiality of the investigation.
Najjar said that the measures, until preparation of the report, included charges against Husam Ali Mohsen, Osama Kanafani, Maj. Gen. Jamil Sayyed, Maj. Gen. Ali Hajj, Brig. Gen. Raymond Azar, Brig. Gen. Mustafa Hamdan, Mustafa Mesto, Ayman Tarabay, Majed Hasan al-Akhras, Ra'ed Mohammed Fakhreddine, Fadi Elias al-Nammar, Majed Ghassan al-Khatib, Zuheir Mohammed Siddiq, Mahmoud Amin Abdel Aal, Ahmed Amin Abdel Aal, Ibrahim Michel Jarjoura, Firas Hatoum, Abdel Azim Khayat, Mohammed Barbar, Nassim al-Masri and Khalil al-Abdullah.
In preliminary observations, the report said, Siddiq ( a Syrian national ) was not questioned by Lebanese judicial authorities or by the judicial police, but as a witness by the International Committee outside Lebanese territory after leaving in April 2005.
Regarding Husam Husam ( another Syrian national ), the report said he was not questioned by an investigating judge, but moved to Syria to announce at a press conference that what he said before the International Committee was "not true."